Trump suddenly praised Americans who are protesting against him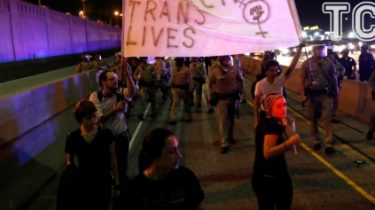 Trump suddenly praised Americans who are protesting against him
© Reuters
Previously, he called his opponents a professional protesters.
Donald trump, who won the U.S. presidential election, social media made two joint statements. In the first – he's his opponents called professional protesters.
This is stated in the story TSN.16:45.
"I had open and successful presidential elections. Now the professional protesters, spurred on by the media, protesting. Very unfair!", he said.
And in a few hours he was carried away by protesters and promised to unite everyone.
See also: In the US tens of thousands of people continue to protest because winning trump
Love the fact that the small groups of protesters last night have a passion for our great country. We will all come together and be proud!
— Donald J. Trump (@realDonaldTrump) November 11, 2016
"I like the fact that a small group of protesters last night demonstrated a passion for our great country. We all come together and be proud of it," he said.
Europe requires trump to clearly tell the world whose side he's on
TSN. 19:30
Yesterday, 20:05
Add to favourites
The Pentagon promises to adhere to its obligations to NATO allies, despite the preferences of the future President in foreign policy. In Europe, demand from the winner of the election as soon as possible to determine the priorities, and in Russia already see similarities between trump and Putin. In the United States as the country selection is not quite all, the protests did not cease this night.
Comments
comments