In Ukraine in recent years, the demand for second hand has doubled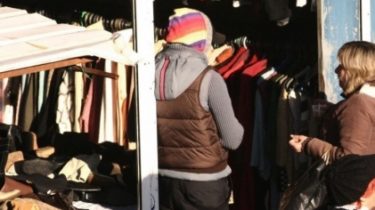 In Ukraine in recent years, the demand for second hand has doubled
© UNIAN
Every year the country imported 100 tons of second-hand clothes and shoes.
While at the top of all to decide how to deal with corruption, in fact, those who are not in power, lined up in a long queue for cheap clothes. Second-hand becomes a lifesaver in a country where new, and especially the brand dresses, coats and shirts become unattainable luxury.
This is stated in the plot of TSN.Week.
The demand for the second in recent years has doubled. TSN journalist Natalia Yarmola went to the thrift stores to see whether live so poorly Ukrainians that wearing even fight? However, the fact that recon – surprised.
The film crew of TSN went to Zhitomir. Before the second door is a long queue for another half hour before opening. And as soon as the store starts to work, people fly inside and clean everything. Because the shopping is cheap. And that's the key word. Per kilogram of clothing per day supply price – 179 UAH. In other days a hundred cheaper. So buy a jacket, a few sweaters, pants and footwear you can get for a penny.
By the way, used clothes annually, Ukraine imports more than 100 tons for the sum over 3 million UAH. And this is only the official data. In the budget, dealers of second-hand pay big taxes. Used clothing has become one of the most profitable businesses in Ukraine and entered in 30-ku the largest fillers of the budget. Now a bunch of imported trousers, shirts, dresses and underwear – a real industry. Which, according to Ukrainian Industrialists, Ukrainian kills garment factory.
But here's the weird thing. Imported items during the inspection can easily be Made in Ukraine. Just domestic apparel so dear to the pockets of ordinary Ukrainians that they are immediately exported. And get to us at an affordable price can only in kind of the most popular Ukrainian brand – second-hand.
As second-hand to save the Ukrainian economy and whether to be ashamed that you are in wearing clothes? Details in the video.
Industry, "second-hand": used clothing has become one of the most profitable businesses in Ukraine
TSN. Week
Today, 20:16
Add to favourites
The demand for "second-hand" in recent years has doubled among 30 of the largest fillers of the budget. The Ukrainians used the opportunity to dress in cheap quality stuff and also earn extra money by selling the brand online. And abroad on the hunt is a Hollywood star. Actress Sharon stone collects cashmere sweaters, and Julia Roberts in 2001, has even received the "Oscar" dress with "second-hand".
Comments
comments