"Iron throne" from the ATO zone was put up for auction: the money will go to help the fighters ATO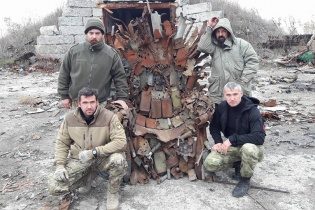 "Iron throne" from the ATO zone was put up for auction: the money will go to help the fighters ATO
© Ministry of defence of Ukraine
Rates can be not only money but also necessary for military items.
Monday, November 14, in Zaporozhye on the Internet auction volunteers exposed for sale "Iron throne", which appeared a month ago near Donetsk. About it reports Radio Freedom.
In the online auction can take part, anyone, regardless of their country of residence. All proceeds from the sale of the "Iron throne" will go to help soldiers ATO.
Rates can be not only money but also necessary for military items. For example, volunteers have already offered two of the imager.
See also: Drawn Andriy Shevchenko, bought at a charity auction for 14 thousand
"You can write with stakes in the online community or in private messages. Already offer 6 million American dollars, but in terms of imaging, that is, not money, and two imager offer. This does not refuse, not necessarily money. If someone has an equivalent that will meet the needs of the soldiers, also will be accepted interest rates", — said one of the coordinators of the online auction Taras Protein.
The auction runs until November 21. Now "the Iron throne" is in the area of the ATO. After the auction, volunteers plan to bring him from the Donbass in Kiev and transfer to the buyer.
We will remind, the Royal throne-a copy of "Game of thrones" constructed from the wreckage of a active armor tank and the residual parts of damaged equipment.
Comments
comments