The EU will not change its position on Russia – Mogherini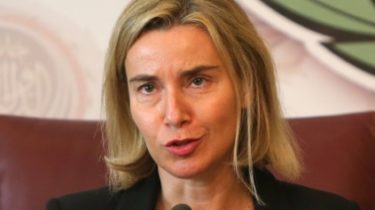 The EU will not change its position on Russia – Mogherini
© Reuters
But the EU is working with Russia on many issues.
The EU does not intend to change its position on Russia, even if the US changes their point of view in this matter.
Such statement as transfers RIA Novosti, made to journalists by the head of EU diplomacy Federica Mogherini.
"The EU has taken a very principled position on illegal annexation of Crimea and the situation in Ukraine. This will not change, despite policy changes", — said Mogerini.
Also, according to Mogherini, the EU "talks with Russia and working with Russia on many issues." Among them – the agreement on the Iranian nuclear program, middle East peace process, Libya and counter-terrorism.
Read also: EU may extend sanctions against Russia before the inauguration of the trump – Reuters
We remind that on 15 September the Council of the European Union extended the action of personal sanctions against representatives of the Russian Federation. In particular, up to 15 March 2017 under sanctions are 146 people and 37 Russian companies, which in the EU is considered directly guilty of violating Ukraine's sovereignty and independence.
Sanctions began its operation in March 2014. Now against Russia, in response to the crisis in Ukraine, there are a number of sanctions. In particular, economic sanctions aimed at specific sectors of the Russian economy, and measures in response to the illegal annexation of Crimea and Sevastopol.
The European Union plans in December to continue the economic sanctions against Russia
TSN. Wounds
11 Nov, 08:44
Add to favourites
This is with reference to own sources reported by Reuters. Foreign policy of newly elected us Chapter is quite predictable, because Brussels fears he will really go for rapprochement with the Kremlin, and then to extend sanctions will be much harder.
Comments
comments