In Kiev, near the shopping center of the scale facing the bus, there are victims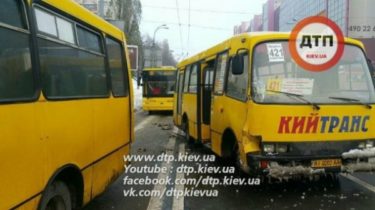 In Kiev, near the shopping center of the scale facing the bus, there are victims
Kiev
Today, 10:13
1 of 10

© facebook.com/dtp.kiev.ua

1 of 10

© facebook.com/dtp.kiev.ua

1 of 10

© facebook.com/dtp.kiev.ua

1 of 10

© facebook.com/dtp.kiev.ua

1 of 10

© facebook.com/dtp.kiev.ua

1 of 10

© facebook.com/dtp.kiev.ua

1 of 10

© facebook.com/dtp.kiev.ua

1 of 10

© facebook.com/dtp.kiev.ua

1 of 10

© facebook.com/dtp.kiev.ua

1 of 10

© facebook.com/dtp.kiev.ua
© facebook.com/dtp.kiev.ua

© facebook.com/dtp.kiev.ua

© facebook.com/dtp.kiev.ua

© facebook.com/dtp.kiev.ua

© facebook.com/dtp.kiev.ua

© facebook.com/dtp.kiev.ua

© facebook.com/dtp.kiev.ua

© facebook.com/dtp.kiev.ua

© facebook.com/dtp.kiev.ua

© facebook.com/dtp.kiev.ua
Due to an accident congestion, dozens of people walk.
In Kiev on the street Hetman has occurred a large road accident with participation of minibuses with passengers.
It is reported dtp.kiev.ua on his page in Facebook.
As noted, the bus number 421 crashed into a minibus on the route number 463, and became at the bus stop near the shopping center "Arcadia".
According to eyewitnesses, the accident is injured, but while accurate information on their number no.
Besides, it is reported that the accident was a huge traffic jam from the metro station "dorohozhychi." Also do not go trolley.
Dozens of people forced to go on foot to the metro to get to work.
We will remind, earlier in the Ternopil region the minibus with officials flew into a ditch. The driver due to bad weather lost control and the car slid off the road. In the accident the head of the RGA went into a coma.
Comments
comments