In the Ukrainian army fifth day trying to destabilize the situation – Biryukov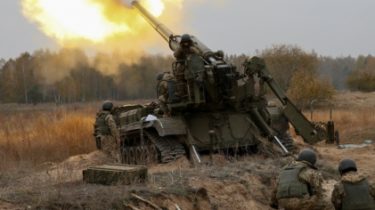 In the Ukrainian army fifth day trying to destabilize the situation – Biryukov
© Reuters
Advisor to Poroshenko believes that now is not the time or the place to protest.
For the last five days in the Ukrainian army is actively trying to destabilize the situation. About this on his page in Facebook said Advisor to the President of Ukraine Yuri Biryukov.
He wrote about some of the instigators of the "jocks" have delayed quietly.
"And now that I znayu. Singled out, a hint as to clear. The last 5 days there is an active buildup in the APU. With the use of special equipment, using the "talkers". Fixed, someone quiet now delay, but all track and all the track – it's hard," reads the message Biryukova.
Read also: the Opposition gathered in the center of Kiev dissatisfied. Text online
In his opinion, the Russian President Vladimir Putin may invade Ukraine if war still will be confused.
"The army of rock. The name rocks, the chain up, Putin. And Yes, he can attack. When shake. We've been through in 2014. When rocked the Crimea, Donetsk rocked, rocked Lugansk. The army game and the army, for the most part – is not listening. Moreover, signals. And what's more, and delays itself. No names yet. But the army is nervous and distracted," added the Advisor Petro Poroshenko.
Biryukov believes that organized rallies and protests, though guaranteed by the Constitution, but rocking the situation in the army and the country as a whole.
"You, the protesters, exposing the army. What makes soldiers nervous about the rear. Distract from the sight, from the light, from the trigger. You are not breaking the law (if it is a peaceful demonstrations and protests), you get it right given our history and our Constitution. But you frankly and went to play. And you plow into the enemy. No time, no place", – he concluded.
We will remind, before SBU reported that Russia is preparing for large-scale destabilization of the situation in Ukraine from November 15. About the beginning of the implementation of such a plan according to information taken from the mailbox of the Russian President's adviser, Vladislav Surkov, say security forces.
The purpose of the plan of the Russian Federation – the internal destabilization of Ukraine. It is an organization of early parliamentary elections in our country to bring to power and the strengthening of Pro-Russian forces in the new Parliament.
Organized all retirees and 125 grn remuneration. In the center of Kiev rallies
ATO
Today, 11:08
1 of 17

Organized column of protesters
© facebook/Andrey Dzindzya

1 of 17

Organized column of protesters
© facebook/Andrey Dzindzya

1 of 17

Organized column of protesters
© facebook/Andrey Dzindzya

1 of 17

Organized column of protesters
© facebook/Andrey Dzindzya

1 of 17

Organized column of protesters
© facebook/Andrey Dzindzya

1 of 17

Organized column of protesters
© facebook/Andrey Dzindzya

1 of 17

Organized column of protesters
© facebook/Andrey Dzindzya

1 of 17

Organized column of protesters
© facebook/Andrey Dzindzya

1 of 17

Organized column of protesters
© facebook/Andrey Dzindzya

1 of 17

Organized column of protesters
© facebook/Andrey Dzindzya

1 of 17

Organized column of protesters
© facebook/Andrey Dzindzya

1 of 17

Organized column of protesters
© facebook/Andrey Dzindzya

1 of 17

Blocked street in the center of Kiev
© UNIAN

1 of 17

Blocked street in the center of Kiev
© UNIAN

1 of 17

Blocked street in the center of Kiev
© UNIAN

1 of 17

Blocked street in the center of Kiev
© UNIAN

1 of 17

Blocked street in the center of Kiev
© UNIAN
Organized column of protesters
© facebook/Andrey Dzindzya

Organized column of protesters
© facebook/Andrey Dzindzya

Organized column of protesters
© facebook/Andrey Dzindzya

Organized column of protesters
© facebook/Andrey Dzindzya

Organized column of protesters
© facebook/Andrey Dzindzya

Organized column of protesters
© facebook/Andrey Dzindzya

Organized column of protesters
© facebook/Andrey Dzindzya

Organized column of protesters
© facebook/Andrey Dzindzya

Organized column of protesters
© facebook/Andrey Dzindzya

Organized column of protesters
© facebook/Andrey Dzindzya

Organized column of protesters
© facebook/Andrey Dzindzya

Organized column of protesters
© facebook/Andrey Dzindzya

Blocked street in the center of Kiev
© UNIAN

Blocked street in the center of Kiev
© UNIAN

Blocked street in the center of Kiev
© UNIAN

Blocked street in the center of Kiev
© UNIAN

Blocked street in the center of Kiev
© UNIAN
Comments
comments