Obsessed plastic mommy is raising money for breast implants for 12-year-old daughter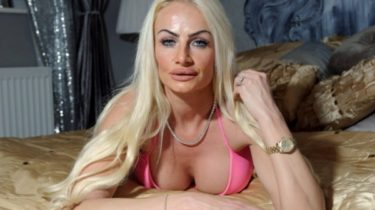 Obsessed plastic mommy is raising money for breast implants for 12-year-old daughter
Curiosities
Today, 14:28
1 of 8

© Facebook/ErolKoray Photography

1 of 8

© Facebook/ErolKoray Photography

1 of 8

© Facebook/ErolKoray Photography

1 of 8

© Facebook/ErolKoray Photography

1 of 8

© Facebook/ErolKoray Photography

1 of 8

© Facebook/ErolKoray Photography

1 of 8

© Facebook/ErolKoray Photography

1 of 8

© Facebook/ErolKoray Photography
© Facebook/ErolKoray Photography

© Facebook/ErolKoray Photography

© Facebook/ErolKoray Photography

© Facebook/ErolKoray Photography

© Facebook/ErolKoray Photography

© Facebook/ErolKoray Photography

© Facebook/ErolKoray Photography

© Facebook/ErolKoray Photography
The woman was postponed for 25 thousand dollars.
A resident of the UK, Kerry miles, which is spent on plastic surgery tens of thousands of dollars, raising money for new Tits for my daughter.
Kerry started to change their appearance in 2010. The woman wanted to look like a Barbie doll, writes the Mirror.
In turn, the 12-year-old daughter Kerry believes that before the operation her mother looked better. The girl wants to change her appearance as her mother. Despite this, the woman continues to set aside money in case if the daughter changes her mind. It was postponed for 25 thousand dollars.
See also: the Guy has spent more than 170 thousand dollars on plastic and looked like Kim Kardashian
"Bethany says she would never do such operations, but I also did it when I was little. In the end, never say never," said Kerry miles.
Also the woman said that her daughter is beautiful, but remembers how she was happy after the operation, and that's why wants her daughter had the opportunity to change their appearance.
"In Bethany, a good nose and big lips, so it will hardly touch them, but if she wants something else, I will try that she got it," says the lover of the plastic arts.
Earlier, in the US a woman is transgender, cut off his ears, nose shaved, and also put tattoos all over the body to look like a rattlesnake. She believes that she was raised by rattlesnakes after parents left her in the forest a little boy.
Comments
comments