Organized all retirees and 125 grn remuneration. In the center of Kiev rallies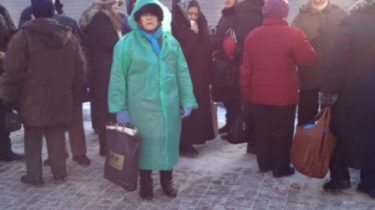 Organized all retirees and 125 grn remuneration. In the center of Kiev rallies
Kiev
Today, 11:08
1 of 17

Organized column of protesters
© facebook/Andrey Dzindzya

1 of 17

Organized column of protesters
© facebook/Andrey Dzindzya

1 of 17

Organized column of protesters
© facebook/Andrey Dzindzya

1 of 17

Organized column of protesters
© facebook/Andrey Dzindzya

1 of 17

Organized column of protesters
© facebook/Andrey Dzindzya

1 of 17

Organized column of protesters
© facebook/Andrey Dzindzya

1 of 17

Organized column of protesters
© facebook/Andrey Dzindzya

1 of 17

Organized column of protesters
© facebook/Andrey Dzindzya

1 of 17

Organized column of protesters
© facebook/Andrey Dzindzya

1 of 17

Organized column of protesters
© facebook/Andrey Dzindzya

1 of 17

Organized column of protesters
© facebook/Andrey Dzindzya

1 of 17

Organized column of protesters
© facebook/Andrey Dzindzya

1 of 17

Blocked street in the center of Kiev
© UNIAN

1 of 17

Blocked street in the center of Kiev
© UNIAN

1 of 17

Blocked street in the center of Kiev
© UNIAN

1 of 17

Blocked street in the center of Kiev
© UNIAN

1 of 17

Blocked street in the center of Kiev
© UNIAN
Organized column of protesters
© facebook/Andrey Dzindzya

Organized column of protesters
© facebook/Andrey Dzindzya

Organized column of protesters
© facebook/Andrey Dzindzya

Organized column of protesters
© facebook/Andrey Dzindzya

Organized column of protesters
© facebook/Andrey Dzindzya

Organized column of protesters
© facebook/Andrey Dzindzya

Organized column of protesters
© facebook/Andrey Dzindzya

Organized column of protesters
© facebook/Andrey Dzindzya

Organized column of protesters
© facebook/Andrey Dzindzya

Organized column of protesters
© facebook/Andrey Dzindzya

Organized column of protesters
© facebook/Andrey Dzindzya

Organized column of protesters
© facebook/Andrey Dzindzya

Blocked street in the center of Kiev
© UNIAN

Blocked street in the center of Kiev
© UNIAN

Blocked street in the center of Kiev
© UNIAN

Blocked street in the center of Kiev
© UNIAN

Blocked street in the center of Kiev
© UNIAN
Elderly people gather in neat columns.
In Central Kiev, pensioners and young people gathered at rallies – people lined up in the queue, a part of the promise for 125 UAH.
On the eve of the shares in the security service warned about the Kremlin's plans to carry out provocations and riots in the capital. To prevent this, to the center of the city pulled of the security forces who blocked off traffic and put up metal detectors.
Read also: the Opposition gathered in the center of Kiev dissatisfied. Text online
In social networks post videos as allegedly cheated depositors lined up in organized queues. Journalist Levko Stek on his page on the social network Facebook wrote that in an action against the head of the NBU Valeria Gontareva, the participants promised for 125 UAH.
We will remind, security service of Ukraine reported that Russia is preparing for large-scale destabilization of the situation in Ukraine from November 15. About the beginning of the implementation of such a plan according to information taken from the mailbox of the Russian President's adviser, Vladislav Surkov, say security forces.
The purpose of the plan of the Russian Federation – the internal destabilization of Ukraine. It is an organization of early parliamentary elections in our country to bring to power and the strengthening of Pro-Russian forces in the new Parliament.
In the center of Kiev stopped in traffic on Khreshchatyk converge youth and seniors
TSN. Wounds
Today, 09:30
The TSN correspondent live reports about the situation in the heart of the capital, in anticipation of protests and provocations of the SBU involved 5000 patrol for policing.
Add to favourites
Comments
comments