The earth lit up by the brightest Supermoon in almost 70 years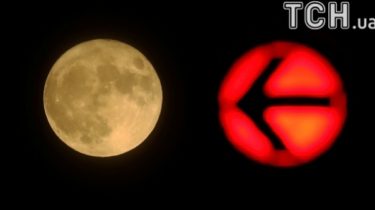 The earth lit up by the brightest Supermoon in almost 70 years
Curiosities
Yesterday, 22:28
1 of 14

© Reuters

1 of 14

© Reuters

1 of 14

© Reuters

1 of 14

© Reuters

1 of 14

© Reuters

1 of 14

© Reuters

1 of 14

© Reuters

1 of 14

© Reuters

1 of 14

© Reuters

1 of 14

© Reuters

1 of 14

© Reuters

1 of 14

© Reuters

1 of 14

© Reuters

1 of 14

© Reuters
© Reuters

© Reuters

© Reuters

© Reuters

© Reuters

© Reuters

© Reuters

© Reuters

© Reuters

© Reuters

© Reuters

© Reuters

© Reuters

© Reuters
The next time you see a similar phenomenon can only do 25 Nov 2034.
November 14, earthlings have the opportunity to see the biggest and brightest Month for the last 68 years.
The supermoon will be visible when a full month is very close to the orbit of the Earth. The moon will appear 14% larger in diameter and 30% brighter. Supermoon coming on 14 November, will be the largest not only this year, but in the century.
According to experts, the last satellite of the Earth so near to the planet in the distant January 1948. The next time you see a similar phenomenon can only do 25 Nov 2034.
A similar phenomenon was observed during the last years, for example, in 1974 and 2005. Perhaps it was this effect and causes natural disasters, for example, in 1974 a cyclone devastated the city of Darwin in Australia. And in 2005, two weeks before the appearance of SUPERLINE in Indonesia the tsunami killed hundreds of thousands of people.
The name Supermoon in 1979, was coined by astrologer Richard Mollom. In his opinion, the Supermoon causes extreme force of the tide, which become especially powerful in the light of the moon.
See also: How to survive a unique Supermoon 14 Nov
We will remind, in the night from 29 to 30 August, in the sky, on Earth it was possible to observe a giant a Month. Then drive the satellite of the planet visually increased by 10%.
Reuters showed spectacular photos of the unique SUPERLINE.
SUPERLINE in the sky: people will be able to observe the unique cosmic phenomenon
TSN. 19:30
Yesterday, 21:42
A huge moon to see today in the sky will all the citizens of the world. Earth satellite will approach our planet at the closest distance for the last 68 years. This rare phenomenon is called SUPERLINE.
Add to favourites
Comments
comments