Metal detectors and several hundred police officers. Under NBU again gathered protesters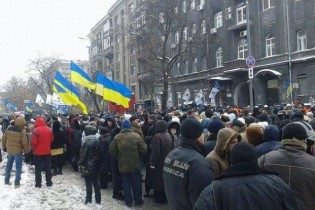 Metal detectors and several hundred police officers. Under NBU again gathered protesters
© Ukrainian truth
While the action takes place peacefully.
Today, November 16, under the National Bank building on Institutska in Kiev again to protest.
In total, the rally was attended by about a thousand people, reports "Interfax-Ukraine".
Protesters camped around the perimeter of the streets near the building of the national Bank. In the hands they are holding flags of Ukraine, political party "For life" and posters with inscriptions "the Dollar at 8". From the speakers, there were calls for the resignation of the head of the NBU Valeria Gontareva.
Read also: OSCE Mission found out how much people are paid for participation in the demonstration under the national Bank
Other participants of the event continue to come to the place of meeting, passing through metal detectors on the intersection of Institutska and Bankova, and from the intersection of Institutska and Sadova.
Currently, the action takes place peacefully. Follow the order of several hundred law enforcement officers. Near the Verkhovna Rada rallies yet.
Near the main post office on Khreshchatyk going for two columns of people, another column is built across the street. Khreshchatyk street is not blocked. In addition, two columns – on the street near the metro station "Khreschatyk". This is mainly elderly people and young people.
We will remind, on November 15 in Kyiv was held a few demonstrations, particularly near the Verkhovna Rada and the national Bank of Ukraine. Thus, under the NBU protesters demanded the resignation of Gontareva and return of their deposits, but some could not even name the Bank in which lay their contributions.
Noteworthy, the police of the capital is reinforced to protect the center of Kiev until November 22.
Organized all retirees and 125 grn remuneration. In the center of Kiev rallies
Kiev
Yesterday, 11:08
1 of 17

Organized column of protesters
© facebook/Andrey Dzindzya

1 of 17

Organized column of protesters
© facebook/Andrey Dzindzya

1 of 17

Organized column of protesters
© facebook/Andrey Dzindzya

1 of 17

Organized column of protesters
© facebook/Andrey Dzindzya

1 of 17

Organized column of protesters
© facebook/Andrey Dzindzya

1 of 17

Organized column of protesters
© facebook/Andrey Dzindzya

1 of 17

Organized column of protesters
© facebook/Andrey Dzindzya

1 of 17

Organized column of protesters
© facebook/Andrey Dzindzya

1 of 17

Organized column of protesters
© facebook/Andrey Dzindzya

1 of 17

Organized column of protesters
© facebook/Andrey Dzindzya

1 of 17

Organized column of protesters
© facebook/Andrey Dzindzya

1 of 17

Organized column of protesters
© facebook/Andrey Dzindzya

1 of 17

Blocked street in the center of Kiev
© UNIAN

1 of 17

Blocked street in the center of Kiev
© UNIAN

1 of 17

Blocked street in the center of Kiev
© UNIAN

1 of 17

Blocked street in the center of Kiev
© UNIAN

1 of 17

Blocked street in the center of Kiev
© UNIAN
Organized column of protesters
© facebook/Andrey Dzindzya

Organized column of protesters
© facebook/Andrey Dzindzya

Organized column of protesters
© facebook/Andrey Dzindzya

Organized column of protesters
© facebook/Andrey Dzindzya

Organized column of protesters
© facebook/Andrey Dzindzya

Organized column of protesters
© facebook/Andrey Dzindzya

Organized column of protesters
© facebook/Andrey Dzindzya

Organized column of protesters
© facebook/Andrey Dzindzya

Organized column of protesters
© facebook/Andrey Dzindzya

Organized column of protesters
© facebook/Andrey Dzindzya

Organized column of protesters
© facebook/Andrey Dzindzya

Organized column of protesters
© facebook/Andrey Dzindzya

Blocked street in the center of Kiev
© UNIAN

Blocked street in the center of Kiev
© UNIAN

Blocked street in the center of Kiev
© UNIAN

Blocked street in the center of Kiev
© UNIAN

Blocked street in the center of Kiev
© UNIAN
Comments
comments