Voting Belarus in the UN, we see as a knife in the back – Gerashchenko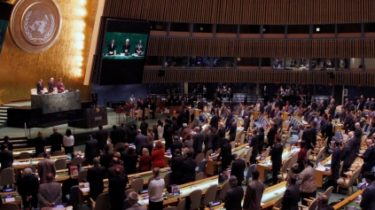 Voting Belarus in the UN, we see as a knife in the back – Gerashchenko
© Reuters
During the meeting a resolution on human rights violations in Crimea was supported by 23 countries.
Ukraine is "particularly painful" took the vote of Armenia, Kazakhstan and Belarus in a resolution on human rights violations in the occupied Crimea. This was during a speech to Parliament, said the first Vice-speaker of the Verkhovna Rada Irina Gerashchenko.
"Especially today I want to focus on those countries that voted against. And that 23 member countries of the United Nations", – said the Deputy, reports UNIAN.
Gerashchenko noted that among them are those who, "as a rule, generally sensitive to any discussion of human rights and outright satellites of the Kremlin".
Over the voting against the resolution Armenia and Kazakhstan Gerashchenko said that he understands their friendly relations with Russia, but calls to understand that Ukraine is fighting not only for her but for the right of all post-Soviet countries to pursue an independent policy.
Concerning the position of Belarus, Gerashchenko said that "we see this as a knife in the back".
"We are grateful to the Belarusian side for an independent platform in Minsk. And we appreciate that. But an independent court shall be independent in all positions, and not biased by the game to one side," – said the Deputy.
"We appeal to Belarus with a request to respect the right of Ukraine to defend our independence and sovereignty and understand that the following will be Minsk if Kiev today will not protect our independence", – said Gerashchenko.
At the meeting of the Third Committee of the General Assembly of the United Nations that focuses on human rights, was supported by the resolution on human rights violations in Crimea, the Russian occupation authorities, the consideration of which was initiated by Ukraine.
Against the draft UN resolution voted by the representatives of 23 countries, 76 abstained. Among those who voted against were: Angola, Armenia, Belarus, Bolivia, Burundi, Cambodia, China, Cuba, Comoros, North Korea, Kazakhstan, India, Iran, Russia, Nicaragua, Serbia, South Africa, Sudan, Syria, Uzbekistan, Venezuela, Eritrea, Zimbabwe.
Comments
comments