Alcohol and feast on the plant. The volunteers exposed the officer of the chemical forces of the Russian Federation in the Donbass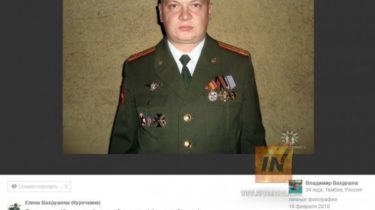 Alcohol and feast on the plant. The volunteers exposed the officer of the chemical forces of the Russian Federation in the Donbass
ATO
Today, 14:59
1 of 7

Photo from the page lately
© InformNapalm

1 of 7

Vakhrushev at the plant in Donetsk
© InformNapalm

1 of 7

Photo from the page lately
© InformNapalm

1 of 7

Photo from the page lately
© InformNapalm

1 of 7

Photo from the page lately
© InformNapalm

1 of 7

Photo from the page lately
© InformNapalm

1 of 7

The Questionnaire Vakhrusheva
© InformNapalm
Photo from the page lately
© InformNapalm

Vakhrushev at the plant in Donetsk
© InformNapalm

Photo from the page lately
© InformNapalm

Photo from the page lately
© InformNapalm

Photo from the page lately
© InformNapalm

Photo from the page lately
© InformNapalm

The Questionnaire Vakhrusheva
© InformNapalm
Occupiers are operating in Donetsk.
Volunteers InformNapalm team exposed on the temporarily occupied Donbass personnel officer, nuclear, biological and chemical protection of Russia Vladimir Vakhrusheva.
To identify the Russian strongman managed by his photos posted on social networks. One of them of the Russian military along with the other occupants arranged a feast on the chemicals plant in Donetsk, where the so-called "100-th separate motorized rifle brigade" militants "DNR".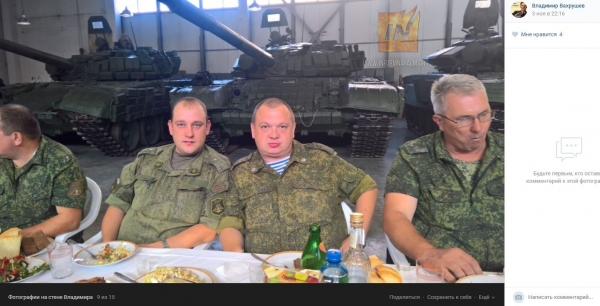 InformNapalm
Vakhrushev at the plant in Donetsk
On the form there are Vakhrusheva lavalier marks NBC (nuclear, biological, chemical protection), and indicates its location.
The photo with the Vakhrusheva specified geotags – he posed for the camera in the temporarily occupied Donetsk, and behind him was a poster of Ukrainian brands.
The volunteers were able to establish that Vakhrushev since 2012, serving in the 28th NBC brigade in/h 65363, stationed in the city of Kamyshin, the Volgograd region, and in 2013 received the rank of captain. In your profile on my.mail.ru the military has also indicated that he was in Chechnya.
InformNapalm
The Questionnaire Vakhrusheva
Vakhrusheva page is full of photos with alcohol.
Earlier, the Ukrainian intelligence officers captured by Russian soldiers in Novoazovsk established the identity of the commander of one of regiments 1, the AK Centre of the territorial troops of the southern military district of the Armed forces of the Russian Federation. He was a Colonel of the Russian armed forces Bondarev Dmitry, who previously headed the 51st airborne regiment 106th airborne division in Tula.
Comments
comments