Sanctions against Russia are not an end in itself – Poroshenko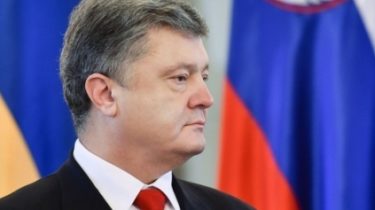 Sanctions against Russia are not an end in itself – Poroshenko
© The website of the President of Ukraine
Sanctions pressure is an effective tool, according to the President.
President of Ukraine Petro Poroshenko stressed that Ukraine remains a strong supporter of legal, poltico-diplomatic ways of settlement and the issue of Crimea and the situation in the Donbass.
About it informs the website of the President.
The President also stressed the importance of continuing saccing pressure on Russia, which is not an end in itself but an effective tool to ensure compliance with the Russian party of its obligations under the Minsk agreements. Poroshenko hopes that the EU will appreciate reform being implemented in Ukraine.
"Despite the daunting challenges, which internally is opposed to Ukraine, we faithfully fulfilled his part of the bargain, and have the right to expect an appropriate decision on the part of our partners in the EU without further delay", – said the head of state.
The President thanked the capitals of the countries "the Big seven" and the EU for its consistent support of Ukraine, including financial, in carrying out difficult but necessary for the country and its European future reforms.
Read also: Hollande has called the conditions for the lifting of sanctions with Russia
We will remind that earlier the President of Ukraine Petro Poroshenko on the phone and talked to the Vice-President of the USA Joseph Biden.
Petro Poroshenko and Joseph Biden discussed the importance of coordinating efforts to ensure the implementation of Russia's obligations under the Minsk agreements and conservation policies of the international sanctions against Russia until full recovery of the sovereignty and territorial integrity of Ukraine.
The interlocutors also paid attention to the continued support of reforms in Ukraine, which began to yield tangible results.
Sanctions against Russia, the United States will be removed only after the return of the Crimea – Obama
TSN. Wounds
Yesterday, 12:42
Add to favourites
Barack Obama, who is now in Greece said, to lift restrictions against Russia, U.S. will agree only after Russia will return Ukraine annexed the Peninsula. About the occupation of Crimea and aggression in the East, said on the eve of NATO.
Comments
comments