Ukrainian political prisoners Karpyuk and Klyh signed the documents for filing a lawsuit to the ECHR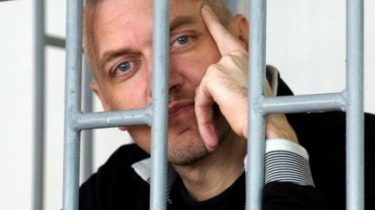 Ukrainian political prisoners Karpyuk and Klyh signed the documents for filing a lawsuit to the ECHR
© Facebook/Anton NumLock
Health Cliche continues to cause serious concerns.
Ukrainians Mykola Karpyuk and Stanislav Klyh, illegally sentenced and detained in Russia, has signed all necessary documents for preparation of claims to the European court of human rights.
This was announced by the speaker of the Ministry of foreign Affairs of Ukraine Marian Betz, writes "Interfax-Ukraine".
Representatives of the consulates in Rostov-on-don met with Ukrainian political prisoners Mykola Karpyuk and Stanislav Klahom contained in the remand prison in Grozny of the Chechen Republic. During the meeting, Karpyuk and Klyh signed the necessary documents to be submitted for preparation of the claim in the ECHR.
Betz reported that the health status of Klich continues to cause serious concerns. In this regard, the Ukrainian side urges Russia to provide Klychu independent medical care.
"We take all measures to release the Ukrainians, who have become hostages of Russia's aggression against Ukraine," she said.
Read also: Poroshenko called a farce the trial of Ukrainian prisoners Klahom and Karpyuk
We will remind, the Russian justice knocks torture "extremist" impressions. Ukrainian political prisoners Klyh Stanislav and Nikolay Karpyuk convicted by a Russian court on 20 and 22 and a half years in a strict regime colony. This sentence court of the Chechen lawyers had hoped to appeal in the Russian Supreme court, but this week, the Ukrainians witnessed another blatant mockery of justice.
Protection of Ukrainians Klich and Karpyuk is preparing a complaint to the European court of human rights
TSN. Wounds
October 27, 12:30
Add to favourites
This became possible after the Supreme court of Russia on the eve of finally approved the sentence of the Ukrainians. Immediate release of political prisoners Klich and Karpyuk demands of Moscow, the Ukrainian foreign Ministry, which condemned another mockery of the Ukrainians. Russia's Supreme Court appeal is not upheld, and upheld the decision 20 and 22 and a half years of imprisonment on fabricated charges of participation Stanislaus and Nicholas in the Chechen war.
Comments
comments