For the restoration of war-torn Donbass need at least $ 20 billion – zhebrivskyi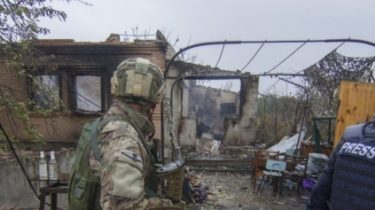 For the restoration of war-torn Donbass need at least $ 20 billion – zhebrivskyi
© UNIAN
Next year they plan to rebuild 10 bridges, 23 homes and build 21 school.
For the reconstruction of infrastructure destroyed in two and a half years of war-Donbass need at least $ 20 billion.
The same amount in the broadcast channel "112 Ukraine" announced the Chairman of the Donetsk regional military-civil administration Pavlo zhebrivskyi.
"To restore the infrastructure of Donetsk oblast in the summer of the 2.5 billion hryvnia. Money began to be used, however, their ultimate realization will occur only in the spring of 2017. From the Regional development Fund we have received 300 million hryvnia, which is used for the repair of bridges, roads, the construction of the hospital," said zhebrivskyi.
He said that already developed a road map for the gradual recovery of Donbass. In particular, already have plans for 2017.
"Next year is planned to reconstruct 10 bridges planned to rebuild 23 houses in Marinka, plans for the construction of 21 schools, hospitals, equipment and modernization. For housing needs the money will be allocated. This heating and water pipes, and more. A program road map for the restoration of infrastructure of Donbass. And I would say not the restoration and construction of new infrastructure of Donbass we have. To restore the infrastructure of Donbass need more than 20 billion dollars", – said zhebrivskyi.
In the Donbass now there are problems on gas supply and heating in Marinka and Krasnogorovka, and electricity. Plan to purchase stoves to two weeks to distribute them to local residents.
Meanwhile, residents of Marinka and Krasnogorovka the Donetsk region in the area of ATO resettled due to regular shelling.
Comments
comments