Anniversary of the revolution of Dignity: 18 thousand law enforcement officers and blocked the streets of Kiev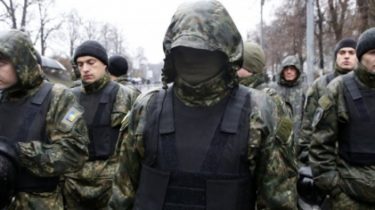 Anniversary of the revolution of Dignity: 18 thousand law enforcement officers and blocked the streets of Kiev
© UNIAN
The police appealed to the participants of mass actions with the request to treat with understanding to work of militiamen.
In the anniversary of the Revolution Dignity in Ukraine will be held 380 events. It is expected that they will participate in approximately 66 thousand people. And some streets will be blocked off with 6.30.
This is stated on the website Nacpac.
Division of the National police and the National guard are already operating in emergency mode. To ensure public order will be involved about 15 thousand policemen and 3 thousand national guardsmen.
Participation in the events in Kiev are planning to take more than 11 thousand people.
November 21 from 6:30 will be closed to traffic on the following streets: part of street. Khreshchatyk street: vul. Bohdan Khmelnytsky to the European area; vul. Institute: vul. Garden to Maidan Nezalezhnosti; vul. Architect Gorodetsky; vul. Boris Grinchenko.
The police addresses to all participants of mass actions with the request to treat with understanding to the work of law enforcement and not to create conflict situations.
See also: New army, and the approach bezveza: Poroshenko summarized the results of three years after the revolution of Dignity
Recall that in the period of celebrating the third anniversary of the revolution of dignity on 21-22 November in Kyiv remains an increased level of terrorist threat.
This was announced by adviser to the Minister of internal Affairs Zoryan Shkiryak.
According to him, according to operational information, Russian special services and domestic anti-state and destructive forces do not leave intentions carry out provocations during the celebration.
Comments
comments