From handshakes to squats. How do people greet each other in different countries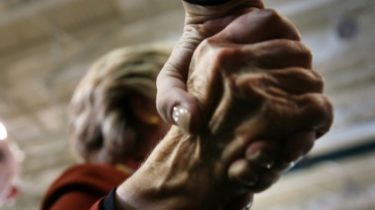 From handshakes to squats. How do people greet each other in different countries
© Reuters
On November 21 the world celebrates international men's day.
Monday, November 21, the world celebrates international men's day. This is stated in the story "Snidanok z 1+1".
This holiday appeared in 1973 as a one-time action response to armed conflict between Israel and Egypt and Syria, which is also known as the Yom Kippur War. In the end this event turned into a worldwide holiday which is celebrated in more than 180 countries around the world.
Invented the feast of siblings from the United States, students Brian and Michael MacCormack. They watched the events in the middle East through the TV screen. Then on 21 November 1973 guys sent 1360 sheets 7 languages the heads of the parliaments of various countries to support international men's day.
To the surprise of the brothers, the action picked up and the leaders of dozens of States, but in General, letters of congratulations were received by the residents of 180 countries. Among the direct participants in 40 years of existence, the festival lit up bill Clinton, Henry Ford, Isaac Asimov, the Dalai Lama, Stevie wonder, Luciano Pavarotti and Queen Elizabeth II.
Today the festival has migrated to the Network every year on 21 November in the pages of Instagram and Youtube be thousands of video greetings.
Read also: In Kiev, blocked the center: on the Maidan are preparing for the anniversary of the revolution of dignity
By the way, to be nice and smile to others is useful not only for karma, but also for psychological health. It improves mood, a person begins to look better, he has more resource in order to solve the psychological problems of the here and now.
And not everywhere in the world people greet with a handshake or a wave of your hand. So, in a Kenyan tribe Akamba as a sign of great respect people spit at each other. The Masai tribe also greet each other with saliva. However, first they spit on their hands and then shake hands with another. The traditional greeting pose in some Indian tribes squats. And Tibet is the traditional greeting will show you the language.
To participate in the world day of greetings and everyone can. For this you need only send a letter with words of congratulations, at least ten of your friends. Thus, according to the founders of the festival, everyone can Express their support for peace in the world.
Comments
comments