Poroshenko awarded the order of Yarosh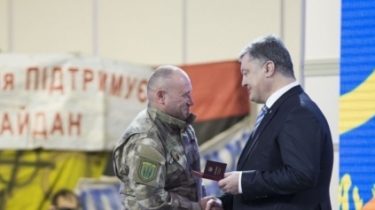 Poroshenko awarded the order of Yarosh
© The website of the President of Ukraine
Today the head of state noted fighters ATO.
The President of Ukraine Petr Poroshenko today awarded medals of participants of ATO "for personal courage, dedication and professionalism identified in the protection of state sovereignty and territorial integrity of Ukraine".
This is stated in the relevant decree.
See also: Criticism of Parliament and yevrooptymizm. What Poroshenko said in the speech on the anniversary of the revolution of dignity
Order of Bogdan Khmelnitsky III degree awarded Andrew Gergert, Victor Keech, Vladislav Litvin, Dmitry Yarosh.
And the order "For courage" of the III degree was awarded to Mr vasyanovych, Vladimir Lashko, Andrew Nagorny, Stanislav Partala, Sergey Torbin.
Earlier today, Poroshenko awarded the title Hero of Ukraine to the two men – Andrei and Sergei Snitko the Tabal, who were killed during anti-terrorist operation.
Comments
comments