Putin invited Obama to Russia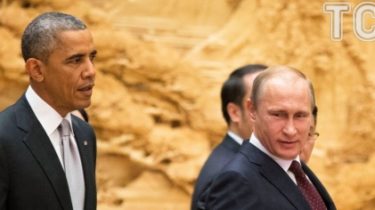 Putin invited Obama to Russia
© Reuters
The dialogue between them was difficult, – said the leaders of the world.
Russian President Vladimir Putin during a meeting on the sidelines of the APEC summit in Peru thanked us counterpart Barack Obama for the job.
This writes TASS.
"I thanked him for the years of joint work and said that at any time if he deems it possible and will the need and desire, we are happy to see him in Russia", — said Putin.
According to him, both leaders noted that it is always with respect of each other's positions, despite the fact that the dialogue between them was difficult and "it was difficult, we can say even to work with each other".
See also: Obama urged the world to give time for the Trump and do not wait for the worst
We will remind that earlier the US President Barack Obama and Russian President Vladimir Putin held a 4-minute meeting before the APEC summit in Peru, during which he discussed Syria and Ukraine.
President Obama urged President Putin to fulfill the obligations of Russia within the framework of the Minsk agreements, underlining the commitment of the United States and partner sovereignty of Ukraine.
Bezviz for Ukraine, the Tribunal for Putin and Obama's farewell to Europe: an intriguing international situation
TSN. Week
Yesterday, 19:55
Add to favourites
The Prosecutor of the international criminal court has called the occupation of the Crimean war of Russia against Ukraine. All of this seriously scared of Putin personally. Because his reaction only confirmed the charges, say lawyers. The urgency of the situation, and added the UN resolution. Ukrainians are preparing a visa-free regime in Europe, but with features. And Obama held a farewell tour of Europe.
Comments
comments