The protests in Kyiv: NBU again sent thousands of protesters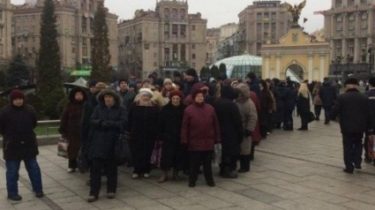 The protests in Kyiv: NBU again sent thousands of protesters
© Ukrainian truth
The number of protesters has doubled more than last week.
Monday, November 21, at the Independence square again gathered protesters, which are sent to the National Bank of Ukraine. It is reported by Ukrainian Pravda.
The crowd consists mostly of young people and the elderly. It is reported that the number of men is twice more than it was last week, and consists of several thousand people.
The columns are located near the main post office, metro station Khreshchatyk from the Institute.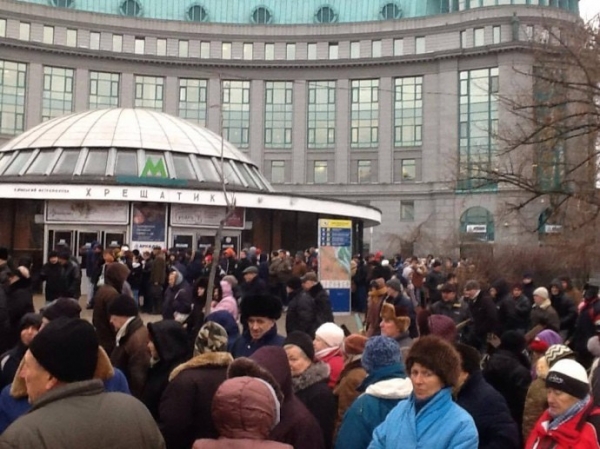 Ukrainian Pravda
According to people from the columns, they are sent to the national Bank. The question of against what they are protesting, one of the women said, "Against the flu," reports the publication.
Institutskaya street was also closed to vehicles, however, metal detectors and no fences.
We will remind, under the national rallies since November 15. The demonstrators demanded the resignation of Gontareva and return of their deposits, but some could not even name the Bank in which lay their contributions.
Organized all retirees and 125 grn remuneration. In the center of Kiev rallies
Kiev
November 15, 11:08
1 of 17

Organized column of protesters
© facebook/Andrey Dzindzya

1 of 17

Organized column of protesters
© facebook/Andrey Dzindzya

1 of 17

Organized column of protesters
© facebook/Andrey Dzindzya

1 of 17

Organized column of protesters
© facebook/Andrey Dzindzya

1 of 17

Organized column of protesters
© facebook/Andrey Dzindzya

1 of 17

Organized column of protesters
© facebook/Andrey Dzindzya

1 of 17

Organized column of protesters
© facebook/Andrey Dzindzya

1 of 17

Organized column of protesters
© facebook/Andrey Dzindzya

1 of 17

Organized column of protesters
© facebook/Andrey Dzindzya

1 of 17

Organized column of protesters
© facebook/Andrey Dzindzya

1 of 17

Organized column of protesters
© facebook/Andrey Dzindzya

1 of 17

Organized column of protesters
© facebook/Andrey Dzindzya

1 of 17

Blocked street in the center of Kiev
© UNIAN

1 of 17

Blocked street in the center of Kiev
© UNIAN

1 of 17

Blocked street in the center of Kiev
© UNIAN

1 of 17

Blocked street in the center of Kiev
© UNIAN

1 of 17

Blocked street in the center of Kiev
© UNIAN
Organized column of protesters
© facebook/Andrey Dzindzya

Organized column of protesters
© facebook/Andrey Dzindzya

Organized column of protesters
© facebook/Andrey Dzindzya

Organized column of protesters
© facebook/Andrey Dzindzya

Organized column of protesters
© facebook/Andrey Dzindzya

Organized column of protesters
© facebook/Andrey Dzindzya

Organized column of protesters
© facebook/Andrey Dzindzya

Organized column of protesters
© facebook/Andrey Dzindzya

Organized column of protesters
© facebook/Andrey Dzindzya

Organized column of protesters
© facebook/Andrey Dzindzya

Organized column of protesters
© facebook/Andrey Dzindzya

Organized column of protesters
© facebook/Andrey Dzindzya

Blocked street in the center of Kiev
© UNIAN

Blocked street in the center of Kiev
© UNIAN

Blocked street in the center of Kiev
© UNIAN

Blocked street in the center of Kiev
© UNIAN

Blocked street in the center of Kiev
© UNIAN
Comments
comments