In the original paving stones from independence founded a new historical Museum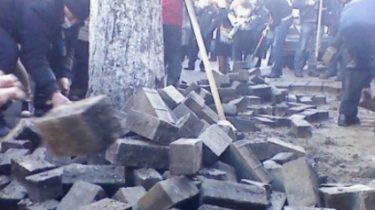 In the original paving stones from independence founded a new historical Museum
The old one was destroyed by enemy shell hit.
In the town laid the first stone in the creation of the public Museum of the city. This stone was the pavement of Independence square, says the story TSN.19:30.
A symbolic gesture to remind that the residents of the Donbass was also among the participants of the revolution of Dignity, and the protesters came to defend the city from invasion the Pro-Russian mercenaries. "On February 20 on Instytutska street I took. There was a drop of blood, now she's a little lost," said the native of Snow, which is now in occupation. "I'll tell you why I came. Because I know who Yanukovych, as he came to power here and what was going on. I didn't want it to be across all Ukraine", – said Elena, who now serves in the division, which protects the industrial area of Avdiivka.
The people who defended Ukraine on the Maidan, continue to do so at the front
TSN. 19:30
Yesterday, 20:06
Add to favourites
In Avdeevka today laid the Foundation stone in the establishment of the people's history Museum. Not just stone, and the pavement of the square. Previously, the city had a Museum, but it defeated the projectile. This should remind you that the people of the East also stood on the Maidan. And the protesters, who came from Western Ukraine to the Central square, now went to defend the East. Those who launched the war for a happy future of the country's independence and continues now, look in the material TSN.
The third anniversary of the beginning of the revolution the inhabitants of the Town had the opportunity to see the movie "Winter lights". People do not hide their impression, because before they were told about the Maidan quite another. The youth here that lives on the front line, understand – for them against the enemy at war then what it is now. "The shell gets below your window – and in mind thought: be grateful you're alive. And next: why," says one of the residents of the city.
Milanovic Yuri held the fire in the House of trade unions, was in the tragic days on Hrushevskoho street and on Institutska. Now he is happy because it can defend their country without the bike helmet and a stick in his hand, and with real weapons and military ammunition. "This is a historic chance to get out from under Russia's influence," explains the motivation certainly contractors APU military Vladimir.
The TSN reporter Eugene Zvecanska
Comments
comments