Russia requests meeting with the arrested Crimean deserters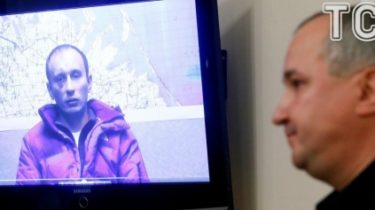 Russia requests meeting with the arrested Crimean deserters
© Reuters
Also, please provide copies of documents confirming their identity and citizenship.
Consulate General of Russia in Odessa, Ukraine sent a note with a request to arrange a meeting with the arrested Crimean deserters.
About it reports a press-service of the Russian Embassy in Kiev, reports TASS.
"Due to the spread in the Ukrainian media information about the detention of 20 November 2016 the bodies of the security service of citizens of the Russian Federation M. E. Odintsov and A. V. Baranov the Russian Consulate General in Odessa, the Ukrainian side has sent a note with a request to provide copies of documents confirming their identity and citizenship, as well as to organize a meeting of the Russian consular officer to the detained", – noted in the Embassy.
Read also: SBU published video of detention of deserters near the border of the occupied Crimea
We will remind, the Russian defense Ministry said that the day 20 November, the SBU detained and taken out from the Crimea on the territory of Mykolaiv oblast of the Russian soldiers – warrant officer Maxim Odintsov and younger Sergeant of contract service of Alexander Baranov. However, in the SBU assured that we are talking about two former Ukrainian military, who changed the oath.
In Russia believe that two Russian soldiers who were allegedly kidnapped by Ukrainian special services in the Crimea, the SBU lured to the checkpoint "Dzhankoi" and transported to the territory of the Nikolaev area. It is reported by Interfax-Russia, citing a source in the headquarters of the black sea fleet.
The Russian foreign Minister Sergei Lavrov said the provocation of the detention of the SBU on the border with Crimea two deserters, who, after the annexation of the Peninsula moved to serve in the Russian army.
Deserters to Alexander Baranov and Maxim Odintsov remanded
TSN. 16:45
Today, 17:17
Add to favourites
They will be 2 months in custody. They were detained admingranitse in the Crimea. On the eve of the SBU said that near the border checkpoint "Chongar" the security forces detained two of the deserters, who during the annexation of the Crimea betrayed the oath and defected to the Russian military. According to the head of security service, Vasyl Hrytsak, the detainees wanted to buy fake documents for admission in Ukrainian University to receive the title of officers of the Russian army.
Comments
comments