The military wants to buy army helmet, which saved his life in the ATO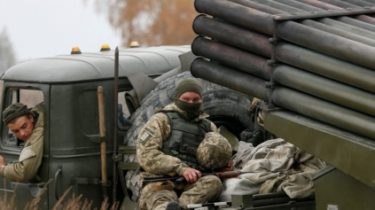 The military wants to buy army helmet, which saved his life in the ATO
© Reuters
The soldier considers it his talisman.
The name of the village Novoaleksandrovka increasingly appears in the official reports from the front, because there is most often fire at positions of the Ukrainian military. On the attacked position is very difficult to get to because the roads are almost impassable, even for trucks, says the story TSN.16:45.
The fighter with the call sign Zarya says that around regularly fall 82-millimetric mines, which destroy the trees. Most often the fire at night. Village de jure is a neutral gray area, however, to attacks of the Ukrainian positions fighters go. Machine guns work just of the houses, in order to provoke return fire and to accuse the Ukrainian army attacks on civilians.
At the Novoalekseevka gunmen firing from the grey zone, hiding behind the houses
TSN. 16:45
Today, 17:30
Add to favourites
Ukrainian soldiers say reducing fire intensity on all fronts. However, while I do not find this explanation. However, the complete lull of the question. Prohibited 152 caliber used in the direction of Mariupol, rocket launchers, and mortars – in the Luhansk region.
Recently, the armed forces of the occupant country celebrated the day of missile troops and artillery. At this time the front was quiet. However, the soldiers say, that the behavior of the enemy is unpredictable, so you must constantly be on the lookout. "We are on the front lines and joke with security impossible. One of our soldier helmet just saved the life", – told the press officer of the 24th brigade Vladimir Fito. Did the military Andrew escaped with a scar on his cheek, and says that without a helmet "would be a leaky head." Now this helmet – its own charm. "This helmet will not give it. If you have to buy from the Armed forces of Ukraine", – says the fighter.
The day before in front of the town laid the first stone in the creation of the people's history Museum. This stone was the pavement of Independence square. A symbolic gesture to remind that the residents of the Donbass was also among the participants of the revolution of Dignity, and the protesters came to defend the city from invasion the Pro-Russian mercenaries.
The TSN reporter Eugene Zvecanska
Comments
comments