The police of Kiev has interpreted the events on Maidan anniversary as hooliganism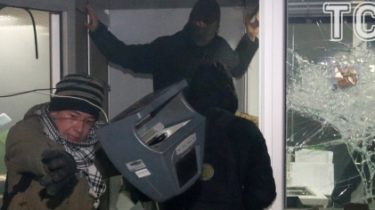 The police of Kiev has interpreted the events on Maidan anniversary as hooliganism
© Reuters
The detainees in the case yet, say the Metropolitan police.
In fact offenses which occurred on Monday in the capital during celebration of third anniversary of the revolution of Dignity, the police opened criminal proceedings. The main offences recorded near the area of Leo Tolstoy, says the story TSN.19:30.
There the protesters broke two office premises of the movement "Ukrainian choice" Putin's godfather Victor Medvedchuk, and the Russian branch of "Sberbank". Now investigators saying detainees there. "All these events are recorded by the police, brought criminal proceedings on articles about the damage of property and 296 – hooliganism. Conducted investigations will be assigned and will the necessary procedural steps. Currently no one was arrested", – stressed the head of the Central Directorate of police of Kiev Andrey Krishchenko.
During the night action injured 10 people. They are mainly bruises and poisoning with a smoke and a girl who fell from the parapet, had to be hospitalized.
Comments
comments