Klimkin said, depends on whom the exact date of a visa-free regime with Ukraine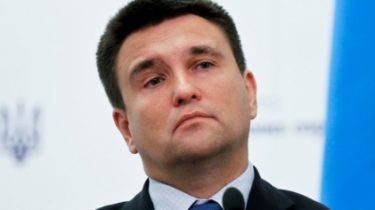 Klimkin said, depends on whom the exact date of a visa-free regime with Ukraine
© UNIAN
According to the Minister, this issue is an internal problem of the EU.
The Minister of foreign Affairs of Ukraine Pavlo Klimkin considers internal problem of the EU that the European Parliament has still not considered the question of granting a visa-free regime for Ukraine.
He said this on Skype to talk show "the Right to Vlad"on TV channel 1+1.
"What we heard today from the European Union is, of course, their understanding of what is happening now with the coordination mechanism to respond to migration risks. That is, it is an internal problem of the EU, nothing to do with us," Klimkin said.
The Minister noted that the exact date bezveza with Ukraine now depends on the European Parliament when its members agree on the mechanism of impact on migration. We can talk about weeks.
"Let me explain the real problem. The problem is whether the European Parliament have a direct impact on the suspension of visa-free regime, or the issue will be taken only by members. As soon as this issue will be resolved immediately will have the answer and direct way to a visa – free regime", – said Klimkin.
Recall, from 21 to 24 November in Brussels hosted the summit Ukraine-EU, which Ukrainian politicians had high hopes in getting the particular date of the decision on visa-free regime for Ukrainians. Ukraine has fulfilled all the requirements of the action Plan on visa liberalization – at least it showed the European Commission and EU ambassadors. However, the procedure began to falter before the last two bodies that must agree on the decision. It is the European Parliament and the EU Council.
Klimkin: Ukraine still has no bezveza only because of internal technical problems in the EU
Policy
Yesterday, 23:36
Add to favourites
Foreign Minister Pavlo Klimkin says that the EU is ready to abolish visas with Ukraine, and it is made clear at the summit today. The chief diplomat is sure that the process is very much alive.
Comments
comments