The activists blocked all entrances and exits of Lukyanovka jail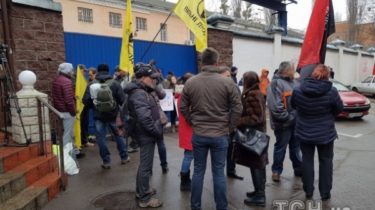 The activists blocked all entrances and exits of Lukyanovka jail
Kiev
Today, 11:29
1 of 6

© Photo by Ivan Grebenyuk/TSN

1 of 6

© Photo by Ivan Grebenyuk/TSN

1 of 6

© Photo by Ivan Grebenyuk/TSN

1 of 6

© Photo by Ivan Grebenyuk/TSN

1 of 6

© Photo by Ivan Grebenyuk/TSN

1 of 6

© Photo by Ivan Grebenyuk/TSN
© Photo by Ivan Grebenyuk/TSN

© Photo by Ivan Grebenyuk/TSN

© Photo by Ivan Grebenyuk/TSN

© Photo by Ivan Grebenyuk/TSN

© Photo by Ivan Grebenyuk/TSN

© Photo by Ivan Grebenyuk/TSN
Protesters are concerned that those arrested berkutovtsy can let go on bail.
Today, 25 November, activists who call themselves the organization of the "Free people", blocked the exits and exits from Lukyanovka jail in Kiev.
As the correspondent of TSN events, the activists explain their action insider information that allegedly Berkut officers detained on suspicion of crimes against Maidan activists, should be taken out of the detention center to court, where there will be questioning of Yanukovych, and from there they are released on bail. Therefore activists don't want to produce cars with Berkut officers from the territory prison.
The action takes place under the strengthened protection on the part of the special forces, the security service and the police. Activists on the spot about fifty, and they continue to arrive. The jail administration came to the activists and asked them to unlock the exits. What the protesters assured that the car will be produced, but only those in which there is no Berkut officers.
We will remind, the permission to interview Yanukovych announced on November 22, according to media reports at the hearing were about 300 accredited journalists. After questioning Yanukovych holds a press conference. And the questioning can be viewed online.
By TSN correspondent Ivan Grebenyuk
Comments
comments