In Kiev, a man was hung next to the mummified corpse of his mother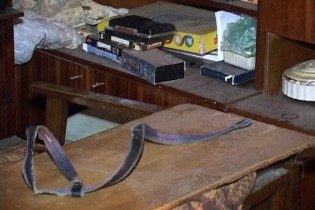 In Kiev, a man was hung next to the mummified corpse of his mother
© State of National police in the Kiev region
Neighbors last saw the woman about five years ago.
In Kiev apartments on Lesi Ukrainki street found povanim husband and the mummified corpse of his mother, who allegedly went to the family about five years ago.
About it reports a press-service of the Metropolitan police.
Law enforcement officers went to the apartment through the appeal of local residents to the utility, which serves the house, the flooding of the premises on the lower floors. Neighbors also reported that their calls nobody opens the door.
When the police and the utility opened the door, he saw povanim on the chandelier 46-year-old landlord. According to the preliminary conclusion of forensic medical examination, the man committed suicide.
In addition, on the floor under the blanket lay the mummified body of a woman without visible signs of violent death. Neighbors said that the deceased neighbor had a mother, 1943 year of birth. He told me that five years ago, she went to relatives.
Police are investigating the causes and circumstances of death of the mother and son.
Comments
comments