Relatives of the Heavenly hundred heroes commented on videotapes Yanukovych and gave him wishes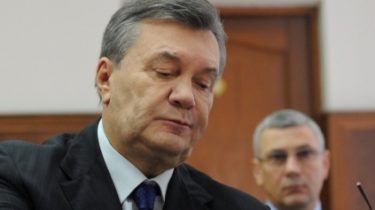 Relatives of the Heavenly hundred heroes commented on videotapes Yanukovych and gave him wishes
© Reuters
The behavior of the policy once again angered Ukrainians.
Lawyers and relatives of the victims of the shootings on the Maidan are outraged by selectivity in memory of Viktor Yanukovych, which he demonstrated during videotapes in the trial of accused employees of "Berkut". Policies-the fugitive does not remember the key moments of the revolution of dignity, however, to detail recalls for the episodes, according to a story TSN.19:30.
"Victor Fedorovich, we wish that he soon jumped from the status of a witness in the status of the accused. We wish you a short road and to occupy a place of honor here in the cage," said one of the relatives of hero of the Heavenly hundreds. "Most unhappy must be the protectors of the berkuts, because he has not provided any testimony in their defense," added another.
As previously reported, Yanukovych during videotapes said that does not remember his telephone conversations with Russian President Vladimir Putin during the events of Euromaidan. Information about your conversations advised to look at the website of the President of Ukraine. The chronology of interrogation Yanukovich is available here.
The TSN reporter Igor Bondarenko
Yanukovych officially a suspect in a case of high treason
TSN. 19:30
Yesterday, 20:08
Add to favourites
He doesn't remember what he was talking about Viktor Medvedchuk 54 times, does not remember whether at his residence in Mezhyhirya Russian marmots, and does not know who gave the order to fire on the protesters. As a witness in the case against former soldiers of "Berkut", who are accused of the shooting of "Heavenly hundreds", Yanukovych finally testified in court. However, most of the questions the Prosecutor could not answer.
Comments
comments