The Director of the Theatre on Podol praised the controversial building on Andreevsky Spusk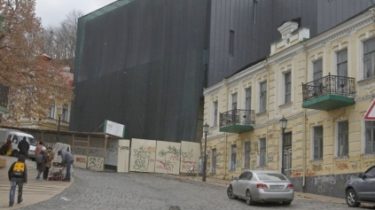 The Director of the Theatre on Podol praised the controversial building on Andreevsky Spusk
© UNIAN
To make the reconstruction of the theater a few years ago a team of the Kharkiv architect Oleg Drozdov.
The new building of the Theatre on Podol, which was predstavlena today, below two meters than anticipated in the old project.
This was stated by the Director of the Theatre on Podol Vitaly Malakhov, UNIAN reports.
See also: Andrew descent showed the controversial facade of the building of the Theatre on Podol
"The old project was higher by almost two meters. And when talking about that it covers part of the mountains, he was lower than planned," – said Malakhov.
In addition, he added that "black background (this refers to the color of the facade of the building — ed.) was the same as now, just that he was closed or something, with a kind of stucco, and in General, a sham".
Malakhov said that the new theater will have more seats and a large stage, which now has size 10 by 10″.
"It's a classic European performance, which will allow us to accept foreign bands on a good stage with good lighting and good music," he said.
On specifying question when it was decided to change the design of the theatre building, Malakhov said that it was a project from 2006 that is completely outdated.
"But decided to change when we found the patron", he added and noted that it happened in 2015.
As the new theater at the hem will affect the image of the city
Snidanok 1+1
Today, 09:23
Add to favourites
The coordinator of the Council of Kyiv has always been urban Gregory Melnichuk told who made the new building of the theatre on Podol will the new theater have a negative impact on the image of the city from a tourist point of view.
Previously Kiev was outraged by the photos from the reconstruction of the building, published in Facebook. According to them, the design of the new building is more like "unit" or "crematorium" and does not fit into the architectural ensemble of the old street.
To make theatre a few years ago a team of the Kharkiv architect Oleg Drozdov. The scandal surprised him. He assured that the experts have made every effort to gently enter the context. At the same time, he recognized that the object itself is very large for the Andreevsky. Also the architect added that the metal in a few years will change color and become gray-green, "antique".
Comments
comments