Military under Mariupol Russian DRG met fire from machine guns and grenade launchers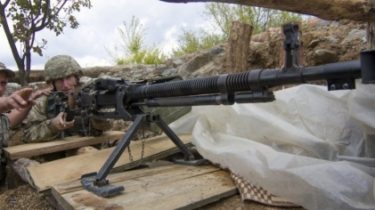 Military under Mariupol Russian DRG met fire from machine guns and grenade launchers
© UNIAN
Enemy eliminated or drove back in the dark to see plainly was not possible.
Last night positions of the Ukrainian military in Mariupol direction, the atoms probed on the vigilance saboteurs. Uninvited guests around midnight, lit up in the thermal imager of the military, says the story TSN.19:30.
"This is normal – they are trying to pass, to break through our line of defense, looking for a weak spot," – explained fighters. They stand in front of the enemy so close that I could see the headlights of cars that night brought the terrorists reinforcements. The enemy is well dug in there: hiding in concrete pillboxes and underground hiding places. Behind him, in the occupied Sakhank based heavy artillery. Its well heard and well seen at night when the shells crashing fall on positions of forces ATO.
The emergence of DRG soldiers are greeted with small arms fire and grenade launchers. With rebel positions shortly answer. "They have the Russian flag, to know, what's the Russians. Maybe we are afraid that we would be afraid. And it stimulates them to make war," – says the fighter with a call sign "moon". The same opinion and the fighter "Bear." He came from Poltava region, was the Maidan, asked to be in the army, but in 2014 it did not take. Three years later, still signed the contract. "I knew where I was going – was at the checkpoint, and then volunteers were brought help. I already had everything, but I would like better – the government is not giving incentive to fight," admits the soldier.
The TSN reporter Ruslan Yarmolyuk
The coastal region of the front noticed another enemy sabotage-reconnaissance group
TSN. 19:30
Yesterday, 20:40
Add to favourites
On the sea of Azov shuddered the earth. Heavy machine guns of the enemy did not fall silent until midnight, and was a witness to this our correspondents. Positions of fighters are quite close: you can hear the roar of heavy equipment and from time to time could see the lights of cars that drive Russian mercenaries. The enemy is well dug in, hidden in concrete pillboxes and underground hiding places.
Comments
comments