Russia spends on the content of Luhansk and Donetsk more than $ 6 billion in the year – Turchynov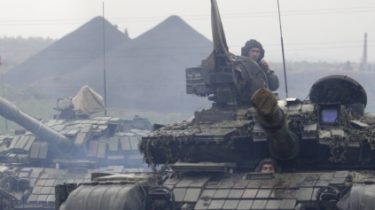 Russia spends on the content of Luhansk and Donetsk more than $ 6 billion in the year – Turchynov
© Reuters
According to the NSDC Secretary, for compensation of losses to Russians in need of new objects of the robbery.
Russia is becoming increasingly difficult to Finance militants in the Donbas, so she needs to somehow compensate for their costs.
This was stated by the NSDC Secretary Oleksandr Turchynov in an interview to "Interfax-Ukraine".
"Russia's spending on the maintenance of Lugansk and Donetsk are estimated at more than $ 6 billion a year", – he stressed.
According to Turchynov, of this amount, 3 billion going to the financial support of the occupied territories, and more than 3 billion earmarked for military spending.
Turchynov has assured that "deformed economic model for the occupied Donbass cannot operate without financial subsidies Russia", but Russia has its own economic problems, therefore, these subsidies have become a heavy burden.
"To compensate for the losses they need new objects of the robbery, some semblance of a working economic model. Mariupol, with its port and factories for them is a strategic goal," he added, predicting that in the next two months, the Russian troops will try to aggravate the situation on the Mariupol direction.
Separately, Turchynov noted that the Russians, like the locusts, for the survival we need a new site where you can make money. "But our warriors are ready to crush the locusts", he said.
We will remind, earlier the journalist of the German newspaper Bild published information that Russia for a year spends one billion euros for the funding of the occupied territories Luhansk and Donetsk regions. In particular, about 79 million euros per month is spent on salaries and pensions to residents of the occupied territories in the Donbas. Moreover, significantly hits the pocket "salary" of militants, which, depending on the rank, get 90-465 euros.
At the same time, the publication noted that this amount does not include charges for gas, petrol, oil, food, humanitarian aid and ammunition to continue the war against Ukraine, which probably cost the Kremlin in the hundreds of millions of euros per year.
Comments
comments