As in the currency market hryvnia fell within 2016. Infographics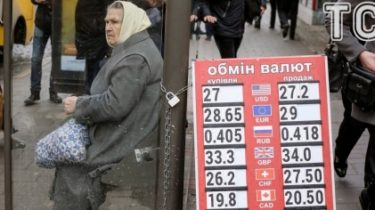 As in the currency market hryvnia fell within 2016. Infographics
© Reuters
The average official exchange rate for 11 months is 25,49 hryvnia.
From the beginning of 2016 and within 11 months, the devaluation of the hryvnia against the US dollar is 6.9%.
Such data in macroeconomic and monetary review for November, the national Bank of Ukraine.
In November the fall was 0.6%. The regulator explains political factors.
"The aggravation of political tension, which took place in November, despite the favorable fundamental external factors that led to increased devaluation pressure on the hryvnia. Adhering to the floating exchange rate regime, the NBU smoothing excessive fluctuations, while preventing the dominant trends in the foreign exchange market. Such actions helped to stabilize the situation on the currency market. Moreover, on the background of a generally favourable external commodity prices and a significant volume of exports, the fundamental factors outweighed the influence of situational factors. This not only led to the strengthening exchange rate of the hryvnia in the second half of the month, but allowed the NBU to resume purchasing foreign currency to replenish international reserves," – said the national Bank.
The net balance of transactions for the purchase of the NBU foreign currency in November (as 29.11.2016) amounted to 32.4 million dollars. Cumulative positive balance of NBU operations on purchase of foreign currency from the beginning of the year – $ 1.6 billion.
The average official exchange rate of the dollar in Ukraine in January-November is 25,49 UAH. This is despite the fact that the state budget for 2016 laid the dollar 24,1 UAH, and at the end of the year, 24, 4 hrn. Note, in 2015 the average official exchange rate of the dollar was 21,84 UAH, in 2014 – of 11.88 UAH, in 2013-m – 7.99 UAH, and in 2007-m – 5, 05 UAH.
2016, the dollar started with a mark of 23.78 UAH (January 6). Now, December 1, in the courses of NBU it is 25,55 UAH. The minimum rate during the year was 13 Jan – 23,26 UAH and a maximum of 26 Feb – 27,24 UAH.
Recall, record in its history, the hryvnia has set 26 February 2015. Then the official exchange rate of the NBU, the US dollar amounted to 30.01 UAH, and the Euro – 34,04 UAH.
In the draft budget for 2017 laid down the dollar to 27.2 UAH.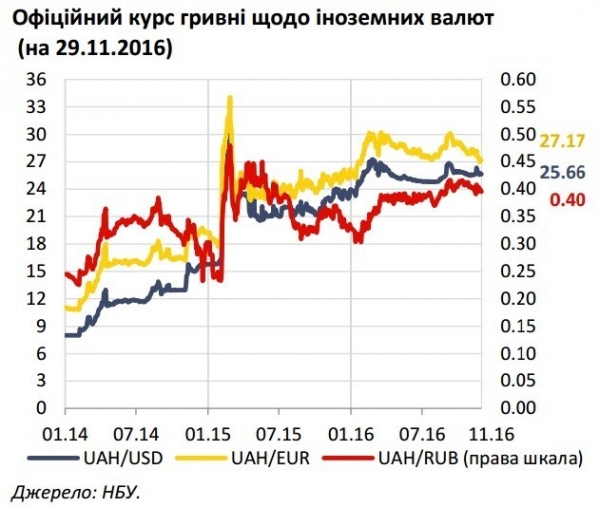 The national Bank of Ukraine
The US dollar exchange rate of the NBU
Create your own infographics
The Euro exchange rate of the NBU
Create your own infographics
Average annual exchange rates of USD from NBU
Create your own infographics
Comments
comments