In the center of Kiev for meetings will cover a number of streets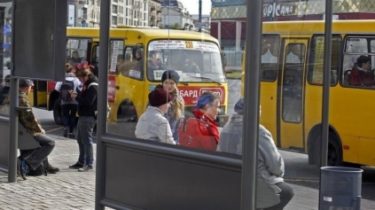 In the center of Kiev for meetings will cover a number of streets
© UNIAN
The public transport route would be changed.
Thursday, December 1, in the center of Kiev on several streets will restrict traffic due to rallies, announced several community organizations. This is stated in the story TSN.Ranok.
So from 6 in the morning for cars and public transport partially overlaps the str (in the interval from Bogdan Khmelnitsky street to the house № 3 on the street), St. Michael (on the site from the street to the intersection with the street), the street Olginskaya and College (cut from alley of the Heavenly hundred Heroes to the intersection with the street Shelkovichnaya str).
Routes of public transport, which passes through these streets, would be changed.
Also in the center of Kiev would strengthen security measures.
We will remind, on Wednesday, November 30, at the National Bank of Ukraine once again gathered protesters. Came to the demonstration of 500 people with yellow-blue flags with the initials of the organization "For life" to demand the resignation of the Chairman of the NBU Valeria Gontareva.
Organized all retirees and 125 grn remuneration. In the center of Kiev rallies
Kiev
November 15, 11:08
1 of 17

Organized column of protesters
© facebook/Andrey Dzindzya

1 of 17

Organized column of protesters
© facebook/Andrey Dzindzya

1 of 17

Organized column of protesters
© facebook/Andrey Dzindzya

1 of 17

Organized column of protesters
© facebook/Andrey Dzindzya

1 of 17

Organized column of protesters
© facebook/Andrey Dzindzya

1 of 17

Organized column of protesters
© facebook/Andrey Dzindzya

1 of 17

Organized column of protesters
© facebook/Andrey Dzindzya

1 of 17

Organized column of protesters
© facebook/Andrey Dzindzya

1 of 17

Organized column of protesters
© facebook/Andrey Dzindzya

1 of 17

Organized column of protesters
© facebook/Andrey Dzindzya

1 of 17

Organized column of protesters
© facebook/Andrey Dzindzya

1 of 17

Organized column of protesters
© facebook/Andrey Dzindzya

1 of 17

Blocked street in the center of Kiev
© UNIAN

1 of 17

Blocked street in the center of Kiev
© UNIAN

1 of 17

Blocked street in the center of Kiev
© UNIAN

1 of 17

Blocked street in the center of Kiev
© UNIAN

1 of 17

Blocked street in the center of Kiev
© UNIAN
Organized column of protesters
© facebook/Andrey Dzindzya

Organized column of protesters
© facebook/Andrey Dzindzya

Organized column of protesters
© facebook/Andrey Dzindzya

Organized column of protesters
© facebook/Andrey Dzindzya

Organized column of protesters
© facebook/Andrey Dzindzya

Organized column of protesters
© facebook/Andrey Dzindzya

Organized column of protesters
© facebook/Andrey Dzindzya

Organized column of protesters
© facebook/Andrey Dzindzya

Organized column of protesters
© facebook/Andrey Dzindzya

Organized column of protesters
© facebook/Andrey Dzindzya

Organized column of protesters
© facebook/Andrey Dzindzya

Organized column of protesters
© facebook/Andrey Dzindzya

Blocked street in the center of Kiev
© UNIAN

Blocked street in the center of Kiev
© UNIAN

Blocked street in the center of Kiev
© UNIAN

Blocked street in the center of Kiev
© UNIAN

Blocked street in the center of Kiev
© UNIAN
Comments
comments