The defense Ministry told the details of the escape of the murderer-the deserter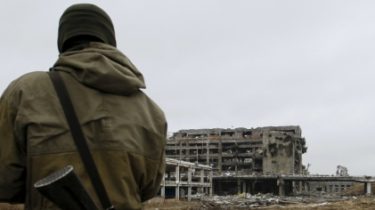 The defense Ministry told the details of the escape of the murderer-the deserter
© Reuters
A traitor stole the BMP, but just got in an accident.
Soldier-a traitor, on which the positions of the ATO forces Shelled military killed, tried to escape on BPM and had an accident.
This was during the briefing said the speaker of the Ministry of defense of Ukraine on ATO Andrei Lysenko.
Trying to avoid responsibility, the soldier escaped from the position in the BMP and wanted to cross the front line to hide militants in the occupied territory. However, almost immediately the killer got in an accident and continued to move on foot, taking with him a gun.
Read also: In Luhansk DRG militants tried to break through the defense of the ATO forces killed the military
Lysenko said that the security forces have committed a serious crime, falling at once under several articles of the Criminal code.
A traitor murdered the Sergeant, who was acting platoon commander.
We will remind, in the press center of the ATO headquarters reported that on December 1, in the area of ATO in the Donbas Ukrainian military one of the divisions is a felony and with the hope that they will escape punishment, went over to the enemy side.
Later, the volunteer Roman Donik said details of the escape of a soldier-traitor: he killed the military and tried to escape on the BMP.
Comments
comments