Australia heatwave brings down the bat on the fly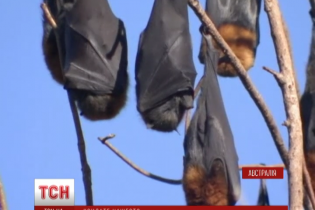 Australia heatwave brings down the bat on the fly
Every year such cases there is about 200.
In the North-Eastern part of Australia the average temperature has reached 80-year highs. Excessive heat has caused numerous cases of falling of bats in flight.
About it writes The Guardian.
However, people shouldn't help these animals if they don't know how to do it, as these animals often carry infectious diseases. In General, bats fall to the ground due to various reasons, however, the factor of increase in temperature at this time of year is the main reason.
Over the past weeks in Queensland was recorded at least two cases when the bats fell during the flight. Every year such cases there is about 200.
Researchers refer to the people to leave alone the animals that suffered from fever, and call the expert on wildlife.
See also: Feldman Ecopark took place the Night of bats
Recall that in Kiev the largest Ukrainian colony of bats registered in the Red book, settled in high-rise buildings. Next to the people they live for more than five years. Residents complain: bats are increasing, and the patience of the people – less
From the invasion of bats suffering residents of one of the Australian States
TSN. Pdsmi day
May 25, 00:10
Add to favourites
The state of new South Wales captured flying foxes – the so-called species of bats. Here declared a state of emergency. Almost two million us dollars was allocated from the budget to disperse the bats. The case for small – to figure out how. There are ideas to use smoke, noise or water. After killing the mice is impossible. They are considered a rare species, which is very easy to harm.
Comments
comments