Kiev has already called the new Christmas tree in Ukraine better than last year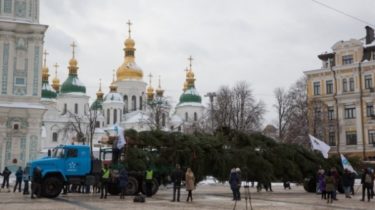 Kiev has already called the new Christmas tree in Ukraine better than last year
Kiev
Today, 01:29
1 of 11

© UNIAN

1 of 11

© UNIAN

1 of 11

© UNIAN

1 of 11

© UNIAN

1 of 11

© UNIAN

1 of 11

© UNIAN

1 of 11

© UNIAN

1 of 11

© UNIAN

1 of 11

© UNIAN

1 of 11

© UNIAN

1 of 11

© UNIAN
© UNIAN

© UNIAN

© UNIAN

© UNIAN

© UNIAN

© UNIAN

© UNIAN

© UNIAN

© UNIAN

© UNIAN

© UNIAN
People say that not even dressed up, the tree of impressive size.
The main tree of the country covered about 600 miles from the Carpathians to Kiev on Saturday afternoon arrived at St. Sophia square of the capital. To set up and decorate the 26-foot tree will begin on Sunday, according to a story TSN.19:30.
The city truck with the Christmas tree was accompanied by three crew police car and road safety. People in the area, only hearing the music, immediately pulled out cameras. Passers-by are convinced that tree though not in form – but better than last year. Judged primarily by record size. "She's taller and fluffy" – they noticed and admitted that with the advent of the tree added a festive mood.
In Kiev there has arrived the main Christmas tree of Ukraine
TSN. 19:30
Yesterday, 22:17
With police escort and under Christmas songs arrived in Kiev, the main tree of the country. 26-foot tree from Ivano-Frankivsk drove more than 20 hours. A 30-metre truck was accompanied by three crew police car and road safety. The first witnesses of the importation of the Christmas tree on St. Sophia square argue that this is better than last year.
Add to favourites
The driver with 40-the summer experience Nikolay to give good mood to the people of Kiev, travelled a great distance. He did not hide the fact that he was tired. Usually truck it transportorul electrosupport, the tree was transported for the first time. "It was difficult. It snowed in Lviv, Zhytomyr and Rivne regions," he admits. He adds that the hardest part was to cope with the twists, because for its cabin has not seen the tail of the truck. "The Hardest Part Of Lviv. Because there are large hills, twists and turns. Still the night," said the driver.
To install the Christmas tree will be Sunday. For its decoration will be used more than thousands of toys, particularly traditional Ukrainian angels. Half of the decorations for the main Christmas tree made by children's hands. Unlike past years, the tree put in the centre of the square so that people could examine it from all sides. And kindle already prepared the Christmas tree December 19 – on the feast of St. Nicholas.
The TSN reporter Anton Strashko
Comments
comments