Antonov voiced Groisman conditions for the start of series production of Ukrainian planes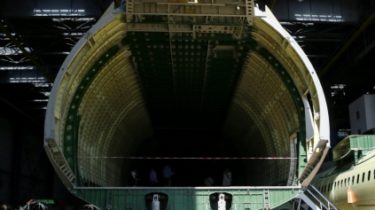 Antonov voiced Groisman conditions for the start of series production of Ukrainian planes
© Reuters
The company has already found all the necessary components to replace the Russian.
GP Antonov needs to raise $ 703,2 million to launch full-scale production. This was discussed during a meeting on problems of aviation industry, on Tuesday, 29 November, which was chaired by Prime Minister Vladimir Groisman, reports ЛІГА.net.
See also: a Moscow court has ordered Antonov to pay Russia 180 million rubles
Over the past five years (2011 to nine months of 2016), the company produced and sold 16 aircraft: six – An-132, four An-148 and six An-158. The management of the company appealed to the head of the government with the request to help the company.
"Over the past 10 years, no aircraft built with profitability," – said the President of the Corporation Ukrainian aircraft company (UAC) Mikhail Gvozdev.
He noted that the company has the appearance of a new aircraft without Russian components, and for him there are markets.
"We know how cost-effective to produce this aircraft. But not one customer will buy the plane if it won't be interested in their own state. We need not so much money, how much assistance in the organization of the leasing company to these planes flew", – said Gvozdev.
He added that the company found all the necessary components for the replacement of Russian, but for their final localization in Ukraine and procurement abroad to $ 77.5 million in Addition Antonov necessary funds to upgrade production capacity. Just to start of series production in 2018, the company needs $ 703,2 million
In Antonov expects to receive the state order for the purchase of aircraft for state agencies.
The company now has a contract with the defense Ministry on the construction of three modifications of An-148. If you manage to attract funding in the years 2018-2021 Antonov is ready to produce nearly 100 aircraft: 60 pieces – the An-148/158, 18 – the An-178 and 18 – An-132.
In turn, Groisman instructed to prepare the program of development of aviation industry.
"It should be a medium-term program. With a clear task: who, what and in what time frame should do. And everyone needs to take responsibility. We are talking about the program of development of aviation in military and civil sectors. It must be a complex of measures aimed at the launch of serial production", – he stressed.
Groisman added that in January the government is ready to adopt a separate resolution to support the aviation industry. "We'll find the money", – says the Prime Minister.
Earlier it was reported that Antonov broke off relations with Russia, and in 2016 will not release any aircraft from-for shortages of accessories.
Comments
comments