Lawyer Yanukovych urged that the fugitive was interrogated by Russian security forces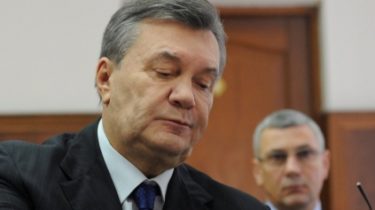 Lawyer Yanukovych urged that the fugitive was interrogated by Russian security forces
© Reuters
Yanukovych is not going to Ukraine because he feared for his life, the lawyer said.
The lawyer eks-the President Victor Yanukovych offered to arrange the interrogation of his client by the investigating authorities of Russia.
This was stated by the defender of the fugitive Vitaly Serdyuk in the comment "Ukrainian truth".
He arrived for questioning in the GPU instead of Yanukovych for alleged risks to his life and health.
See also: a Case of treason Yanukovych will soon become indictment.
"On behalf of my client in 10 hours I was at the entrance to the GPU, with the aim to give detailed testimony on this issue and report on valid reasons for absenteeism, as well as to provide evidence on this issue", – said Serdyuk.
The lawyer added that Yanukovych can testify investigation online.
"According to the 43rd Chapter of the criminal procedure code to my client may come by the investigator, or may be conducted by videoconference", – he said.
Also Serdyuk has ruled out the possibility of interrogation in the building of the Embassy or Consulate of Ukraine in Russia.
"Interrogation must be conducted on lines of investigation in law enforcement bodies of the Russian Federation, or in the place of residence of Viktor Yanukovych, but with the participation of representatives of the local law enforcement system", – he said, adding that the GPU never filed a petition for questioning this.
Today, 5 December, the Prosecutor's office was waiting for Yanukovych for questioning as a suspect. November 28 in the premises of Sviatoshynsky court on direct communication with the Rostov court, which is now Viktor Yanukovych, Prosecutor General Yury Lutsenko declared suspected of treason ex-President.
Yanukovych during videotapes said that does not remember his telephone conversations with Russian President Vladimir Putin during the events in Central Kiev. Information about its negotiations advised to look at the website of the President of Ukraine.
The chronology of interrogation Yanukovych.
Yanukovych did not appear at the scheduled to the GPU interrogation
TSN. Wounds
Today, 12:59
Add to favourites
The former President waited for 10 o'clock in the morning. The suspicion he announced the Prosecutor General Yury Lutsenko during videotapes a week ago. Instead of Yanukovych came a lawyer who argues that his client did not appear for good reasons: to come to Kiev, because there is threat to his life.
Comments
comments