"Russian pipelines bypassing Ukraine will reduce the cost of the Ukrainian GTS is five times as COBOL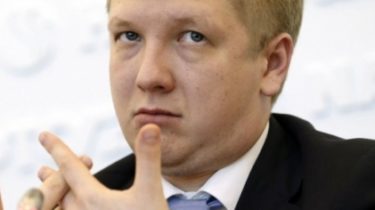 "Russian pipelines bypassing Ukraine will reduce the cost of the Ukrainian GTS is five times as COBOL
Andriy KOBOLEV© UNIAN
Kyiv will annually receive about two billion dollars.
Construction of Russian gas pipelines that connect Russia to Europe bypassing Ukraine, Kiev will cause significant losses. In particular, will fall significantly, the transit of Russian gas through the territory of Ukraine, and this is a shortfall of about 2 billion dollars annually. At the same time, the cost of the Ukrainian gas transportation system will fall by almost five times.
It is, in particular, on the construction of the gas pipeline "Turkish stream" (two branches) and "Nord stream-2". Projects lobbying the Russian "Gazprom". This broadcast channel 3S.tv said the Chairman of the Board NAK "Naftogaz Ukraine" Andriy KOBOLEV.
"It is clear that any asset is as much for him to give in the framework of fair transaction, or how much it brings to its owner. Largely the cost of the Ukrainian gas transportation system is determined by the fact whether the transit through it after 2019. In the case of the project "Northern stream-2" and "Turkish stream" in the format of two lines, transit the territory of Ukraine will not. This will reduce the cost of the Ukrainian GTS about five times. Now TCU brings in about $ 2 billion per year," – said KOBOLEV, quoted by UNIAN.
Ukraine insisted and continues to insist on political involvement in both projects.
"These projects have two objectives. The first – win over Ukraine in the economic war. The second goal is the conquest of Eastern Europe. The old practice of "divide and conquer", – said the head of "Naftogaz".
KOBOLEV said that Ukraine is making active attempts to persuade the European partners to their point of view and convince them to abandon the construction of additional transportation capacity to bypass Ukraine. One of the arguments of Kiev there is a proposal to share the Ukrainian gas transportation system and to earn on the Ukrainian transit.
Recall that the transit of Russian gas to European Union countries via Ukraine for 2015 increased compared with 2014 up 8% to 67.1 billion cubic meters By the end of 2016, the transit volume will reach 80 billion cubic meters In January-October 2016 the transit of gas has increased by 20% to 65.3 billion cubic meters.
Ukraine already a year buys gas directly from Russia.
Comments
comments