"Samopomich" skipped session of Parliament due to the mandate Novinsky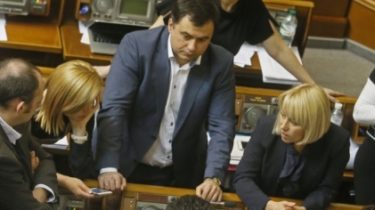 "Samopomich" skipped session of Parliament due to the mandate Novinsky
© UNIAN
The fraction requires to vote the performance of the GPU on Novinsky.
"Samopomich" refuses to work until vnesen vote on the performance of the GPU on the deprivation of parliamentary immunity of Vadim Novinsky.
This is stated in the message franktsii on Twitter.
"Samopomich" he's out until then, until brought to a vote the idea of the GPU on Novinsky" — quoted the Chairman of the faction Oleg Berezyuk.
"Samopomich" he's out until then, until brought to a vote the idea of the GPU on Novinsky — Berezyuk
— The Association "Samopomich" (@SamopomichUA) 6 December 2016
In turn UNIAN reports that Berezyuk also stressed that the faction requires consideration of the bill, which simplifies the procedure of deprivation of immunity of MPs.
"It is hypocrisy and violation of oath of a Deputy before the people of Ukraine. So today we in order to help the government and the Parliament to make qualitative decisions, go out from this chamber until the submission of the General Prosecutor's office, " he said.
See also: Parubiy thought up how faster to detain Novinsky
We will remind, Lutsenko said about "protection" Novinsky from politicians. "I do believe "protection" is invalid, and in the case of Yanukovych – even more", – said Lutsenko. At the same time, he didn't want to call the political forces or people who, in his opinion, the "roof" Novinsky.
In comments to reporters Prosecutor General Yury Lutsenko declared that people's deputies are looking for reasons not to take a decision on removal of inviolability from the Deputy Vadim Novinsky. "The deputies are afraid to say Yes and afraid to say no and make preparati this problem on me, pushing me – or break of the CPC (criminal procedure code), or you will not receive a response," he said.
Vadim Novinsky is on the case of illegal detention of the assistant to the now deceased Metropolitan of the UOC-MP Vladimir Alexander drabinko. According to investigators, Novinsky was a co-organizer of abductions for the change of leadership of the Ukrainian Orthodox Church of the Moscow Patriarchate 2013.
Novinsky, Klinchayev, Ephraim, – the public Prosecutor told what to expect in high-profile cases
Policy
2 Dec, 01:47
Add to favourites
The General Prosecutor of Ukraine Yury Lutsenko reported as making good on his promise to bring MPs to justice for treason.
Comments
comments