Groisman wants the resignation of the leadership of the state property Fund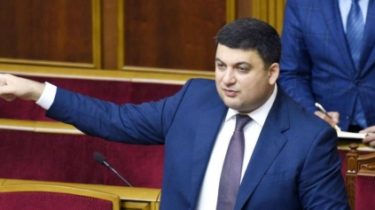 Groisman wants the resignation of the leadership of the state property Fund
© UNIAN
According to him, the Fund is simply unable to carry out privatization in the country.
Prime Minister Vladimir Groisman wants the resignation of the leadership of the state property Fund.
He said this at a government meeting, reports Ukrainian Pravda.
"The last competition for the HMO showed that the organization simply can not carry out privatization in the country. It is not the powers of the government concerning the appointment and change of management… But I would have been fired today, anyone who manages the state property Fund of Ukraine. So inept to govern the state, we still have to learn," he said.
The Prime Minister had proposed before the end of the month to hear the report of the Fund and to make further proposals.
Today, 7 December, the press service of the Fund reported that the tender for the sale of Odessa portside plant was not held due to a lack of applications from potential buyers.
In particular, 6 December at 18.00 has ended the reception of applications for competition for the sale 96,567% of the shares of the SCR. The Foundation reports that applications for participation in the competition from potential investors has not been received, although of interest to the enterprise showed about 10 potential buyers.
The Fund believes the key factors for the lack of statements: negative pricing environment on the world markets of mineral fertilizers and the lack of positive forecasts of growth, the high price of natural gas, unprofitable activity of the enterprise, the continuation of increasing debt, including in front of OSTCHEM Holding (GroupDF).
IPF is one of the country's largest chemical manufacturers. Ukraine has long wanted to sell the company, capable to produce 1.2 million tonnes of ammonia and 0.9 million tonnes of urea per year. The plant accounts for 7% of the European market of urea and 5% ammonia, and 90% of production is exported to two dozen countries. In August, the factory alarm stopped and the state property Fund had to urgently negotiate with the state company on gas supplies and with the Bank for deferment of debt of the plant.
Recall, none of the companies has not become a party to the contest on sale of Odessa portside plant, which is scheduled for December 14. This was announced by first Deputy General Director of IPF Nicholas Surkov. According to him, the main contenders for the purchase of 99.6% of the shares of the plant – the company "Ukrnefteburenie" and DCH – refused to participate in the auction.
Surkov blamed the state property Fund. According to him, the contract of sale was made onerous for buyers conditions. Additionally, potential buyers do not have information about the debt of the SCR. In General, according to Nicholas Surkova, the state property Fund delayed the privatization process.
Comments
comments