The condition of the child, who is grief-mother left the apartment for 9 days, is improving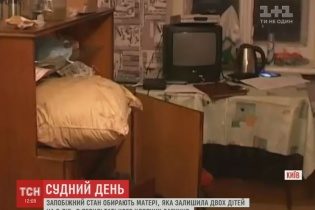 The condition of the child, who is grief-mother left the apartment for 9 days, is improving
Mother who for 9 days threw their little children without food, faces 8 years in prison.
Mother who for 9 days locked in the apartment without food or water two small children, today, will elect a measure of restraint, according to TSN.12.00.
She is accused of leaving in danger, where one-year-old son was killed, and two year old daughter was in intensive care. For this, the woman faces up to 8 years behind bars.
As it became known TSN, as a two-year Ani, which managed to survive improves. In the near future it will be moved from ICU to the pediatric ward. According to doctors, Anja active, eats well, however, is only adapted formulas.
The girl and her 1-year-old brother twenty years mother had closed the apartment themselves and just forgot about them. She at this time lived in an apartment with a new lover, which a month ago had another child.
See also: "I didn't know that children can die." Mother who starved son, was interrogated at the Prosecutor's office
Service on children's Affairs is preparing a lawsuit to the court about deprivation of its parental rights.
"If parents do not fulfill parental responsibilities is a law that provides for deprivation of parental rights. Service for children will bring a lawsuit and depending on what decision the court will decide the fate of a child", – told in service for children.
Mother who for 9 days locked in the apartment of two young children, choose a measure of restraint
TSN. Wounds
Today, 13:06
Add to favourites
She is accused of leaving in danger, where one-year-old son was killed, and two year old daughter was in intensive care. For this mother faces up to 8 years behind bars. As it became known TSN, as a two-year Ani, which managed to survive improves. In the near future it will be moved from ICU to the pediatric ward
Comments
comments