PrivatBank became the "Bank of the year 2016" in the ranking of top global banks by The Banker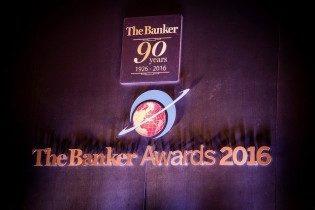 PrivatBank became the "Bank of the year 2016" in the ranking of top global banks by The Banker
Ukrainian PrivatBank at the end of 2016 was ranked among the best global banks, "The Banker's Bank of the Year Awards 2016" and recognized as Bank of the year in Ukraine.
7 December, London editorial office of the magazine "The Banker" has named the winners of the 17th annual award "Bank of the year 2016". As reported by chief editor Brian Caplen, banks of the year were banks, development strategies which helped to achieve effective financial performance in a difficult competitive and economic conditions. In Ukraine, "Bank of the year 2016" recognized PrivatBank, which according to leading financial experts able not only to adapt to the conditions of military actions and economic instability, but also to initiate the program of revival of the economy by stimulating small business development.
"The Ukrainian banking system this year are faced with daunting challenges – almost double the fall in GDP in dollar terms and a decrease of 42% of the loan portfolio of banks notes in an editorial, The Banker. – The other side of the fall in industrial production – the explosive growth of unemployment and the outflow of skilled labor, and Privat offered the market the implementation of the program, which will provide economic growth at the expense of small business."
According to experts of the magazine, PrivatBank in 2016, was one of the few banks in Ukraine, which continued business support through funding mechanisms for entrepreneurs and self-employed persons, both banking and using the platform of groundhandling. PrivatBank also sees prospects for support of small and medium businesses through programs of education, information and consulting support, adaptation of advanced digital technologies.
"We plan this year and next to help small businesses to create over 1 million new jobs, including through active implementation of the program reduce the cost of loans to entrepreneurs through programs of payment of interest at the expense of local budgets, – noted the Chairman of the Board of PrivatBank Alexander Dubilet. Today with the help of service "the CUBE" entrepreneurs already established in Ukraine 81 242 new jobs in small businesses".
Experts of the leading financial industry magazine The Banker (part of the group The Financial Times) already 17 years running determine "Bank of the year" among financial and credit organizations in 149 countries of the world. This year the prestigious award was claimed by more than 540 banks in the world. All banks were assessed on a group of criteria, including qualitative indicators (profitability, asset quality and financial stability) and quantitative ones (large capital raising, M&A deals, introduction of new technologies, products or business areas).
Comments
comments