Saved from starving to death 2-year-old girl getting ready to transfer out of intensive care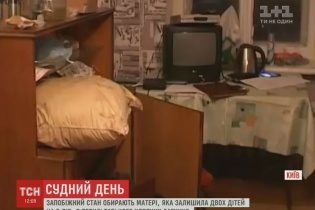 Saved from starving to death 2-year-old girl getting ready to transfer out of intensive care
Doctors say that the worst is over, however, she would need psychological rehabilitation.
In Kiev children's hospital continue to care for 2-year-old Anna, who spent a week with his younger brother in a closed apartment. After three days of saving the girl doctors say that the threat to her life gone, says the story TSN.19:30.
"She is in a satisfactory condition. It is adequate, contact, engaged, interested in toys," say the doctors. In the hospital Anna was brought emaciated – she weighed only 11 pounds. For three days, Anja has already gained a kilogram of weight, but the girl is still in intensive care and it is allowed. Allowed only a psychologist and several doctors that she was used. Doctors say that the past two days none of the relatives in the hospital do not appear – only the first day came a woman claiming to be her grandmother.
Next week the little patient transferred to the hospital. Meanwhile, the terrible facts about her mother, Vladislav Trokhimchuk, told her ex-girlfriend Ekaterina Kalashnikova. They met a month ago through the social network. "Was found. She drank wine, though breast-fed," the shocked witness. Soon Vlad started to ask new friends for help: they say, her 2-year-old daughter found a disease of the brain. For persuasiveness he sent a photograph of a girl allegedly from the hospital. Treatment like needed to spend 800 hryvnia per day. When friends started asking for the medical report of the girl, the woman came out of the community and disappeared.
Friend, pseudo-mother gave evidence in the case to the Commissioner for children's rights Mykola Kuleba. "We think Vlad deliberately wanted to kill children,"she said. The situation was also expressed and the brother of detained women. He assured that, though not very friendly with his sister, but he had the impression that her children always have what to eat and what to wear. So the news of the death of the boy and the half-dead girl's condition as a result of hunger became for him a shock. As it became known, Zamorenova hunger year-old boy buried in Kiev.
The TSN reporter Anton Strashko
Comments
comments