The network has reached a heartbreaking video of a dog that came to say goodbye to her dying master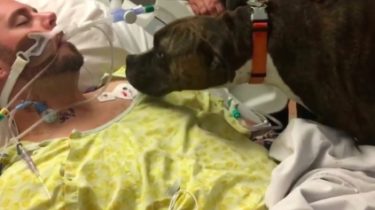 The network has reached a heartbreaking video of a dog that came to say goodbye to her dying master
© scrnshot s video
When Molly saw Ryan immobilized, she pursed her tail and ears that showed how upset she was.
Live with a dog that led to say goodbye to its dying owner blew up the social networks.
The video, posted to Facebook by the sister of the owner of the dog, has garnered over 10 million views and touched hundreds of thousands of people.
Young California's Ryan Jessen last month complained of a migraine, however, after hospitalization, doctors discovered that he had bleeding in the brain, reports The lad bible.
The disease was incompatible with life. Relatives of the young man gathered to say farewell words, doctors are also allowed to bring your beloved pet Pattern — dog breed boxer Molly.
"The hospital staff allowed us to make the cutest thing in the world to bring the dog my brother, so Molly would know why her master did not come home," wrote sister Michelle Ryan Jessen on his page in Facebook.
The girl said that her brother and Molly were very close.
When Molly saw Ryan immobilized, she pursed her tail and ears that showed how upset she was. The footage shows how a dog sniffs the owner desperately trying to understand why he does not react to it.
After death, the bodies of Ryan was transferred to the blood donation service.
Ryan's mother, Laurie, wrote: "don't worry about the dog! We'll take care of her!!! She's part of our family. But Molly still did not have his "daddy".
We will remind, in the Dnieper on the railway tracks unknown left the dog: so he couldn't escape from the train, still tied up with metal wire.
The dog, who whined, accidentally saw the guy that was driving past the track on a motorcycle. He saved the four-legged. And even after his release the dog out of there. For several days he patiently sits on the rails and waiting for the person who was dumped there.
Dog as soon as he sees his Savior, and learns with all his racing to him. What four-legged left here associated, no doubt the guy does not arise.
Comments
comments