The people's Deputy from "opposition bloc" Balitsky admitted that he would not vote now for the "laws of January 16"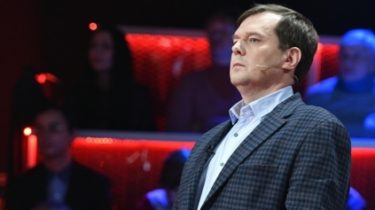 The people's Deputy from "opposition bloc" Balitsky admitted that he would not vote now for the "laws of January 16"
© Dnia
The MP refused to repent for his part in making these laws.
MP from "Opposition bloc" Yevhen Balitsky said the"laws of January 16″, which were adopted in the midst of the Maidan in 2014.
The MP said on a talk show, "the Right to Vlad," that now didn't vote for these laws.
"If you had to vote today, I would not have voted. I said all that consider it necessary. I repent? And you don't want to repent for what he brought the country? You don't want to take the law that I did today with the country in economic terms? What happened in Odessa? These investigations never take place", – said the Deputy.
"Dictatorial laws"or "laws 16 January" – a package of laws adopted by the Verkhovna Rada of Ukraine on 16 January 2014 and signed by the then President of Ukraine Viktor Yanukovych. The laws were passed by show of hands, without the use of the system "Rada" and without discussion, and the texts only become available after deputies voted for them.
These laws, according to most experts, to restrict the rights of citizens, gave government authorities more leeway in punishing the protesters and was intended to criminalize the opposition and civil society. Later nine of the 12 bills have been cancelled.
Balitsky: Today, I would not have voted for laws on January 16
Policy
Today, 00:35
Add to favourites
The MP from the opposition bloc Eugene balitchi calls the error of "draconian laws", which two years ago angered the Maidan. However, the current government oppoblokovets also believes it is a mistake, besides is illegitimate.
Comments
comments