Not discussed police mission in the Donbass, because it was not specific proposals – Steinmeier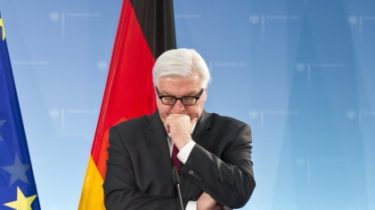 Not discussed police mission in the Donbass, because it was not specific proposals – Steinmeier
© Getty Images
You first need to dissolve the power and then talk about the weapons, the Minister said.
At the final press conference of the foreign Ministers of Germany and Austria, the Minister of foreign Affairs of Germany Frank-Walter Steinmeier told TSN, why not discussed the police mission.
"We can't discuss it here, since I do not have specific proposals from the Secretariat and the Secretary General of the OSCE. We still did, as a participant in the Normandy format, we recently visited Eastern Ukraine near the line of clashes in the Donbas near Kramatorsk, where we examined the basics of the OSCE, here at a press conference already mentioned, under any circumstances, are forced to work the OSCE observers," – said Steinmeier.
According to the Minister, before talking about arming, it is necessary to separate the troops of the parties.
"We need now to do is the withdrawal of troops by both parties – between the Ukrainian army and the separatists, and only then should we think in terms of the OSCE mission, which the mission should be. Here the question of the armament of the mission played no role," he added.
See also: Steinmeier outraged at the contradictory statements of Lavrov about the situation in Aleppo
In turn the Minister for foreign Affairs of Austria Sebastian Kurz said that in the beginning of next year will go to the Donbass.
"I certainly go into the conflict zone. In the East of Ukraine, I will meet with the responsible of the mission of observers. It will not only essence, but also a priority of our presidency from its inception," – said the Minister.
We will remind, Russia and the militants in the Donbas are ready to negotiate about the exchange of prisoners by the formula "all for all". This at a press conference in Hamburg, said the Russian foreign Minister Sergei Lavrov. "Concerning prisoners, detained persons: we have long and consistently subscribe to the requirement or calling to exchange" all for all". In the words of the parties to the conflict – the Ukrainian authorities and representatives of Donbass in favor of this approach," Lavrov said in response to the question TSN. He added that several exchanges occurred, but "it was a long time ago."
Comments
comments