Steinmeier outraged at the contradictory statements of Lavrov about the situation in Aleppo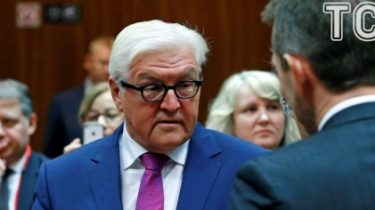 Steinmeier outraged at the contradictory statements of Lavrov about the situation in Aleppo
© Reuters
Before that, Lavrov said the ceasefire in the city, however, later clarified that it was only on the suspension.
The Minister zakordonnih Affairs of Germany Frank-Walter Steinmeier outraged at the contradictory statements of the head of the Russian foreign Minister Sergey Lavrov about the situation in Aleppo.
He said this at a press conference in Hamburg.
"This issue is so difficult to comment, because yesterday the Minister Lavrov was talking about the pause unilateral military action from the Russian side. Today we talked about what tomorrow will continue that question, and tomorrow we will have to verify and establish the facts. Perhaps there is a communication problem of the Russian authorities with the Ministry of defense and Ministry of foreign Affairs. I also believe that both these statements absolutely do not correspond to each other," said Steinmeier.
In turn the Minister for foreign Affairs of Austria Sebastian Kurz said that it is necessary to find out whether it has ceased fire in Aleppo.
"For us it is very important that there is a mission and could perform the task, then we will have some basic information and we will be able to understand what is going on there really is there really a cease – fire," he said.
Read also: Syria rebel group fired at civilians in Aleppo – UN
We will remind, on December 8, the Russian foreign Ministry Sergey Lavrov said that the Syrian army allegedly stopped the fighting in Eastern Aleppo and begins large-scale operation to evacuate civilians from Aleppo.
During a meeting of the Council of Ministers of foreign Affairs of the OSCE, Lavrov said that all willing civilians will be withdrawn from the scene of hostilities. About 8 thousand people left the city in a column with a length of 5 km, the Russian foreign Minister announced a meeting of military diplomats RF and the USA, which will take place on 10 December in Geneva. The parties will discuss the situation in Aleppo.
Comments
comments