The driver of the truck called the shock of the fatal accident on the Kiev highway in Kiev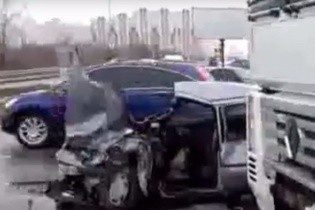 The driver of the truck called the shock of the fatal accident on the Kiev highway in Kiev
© dtp.kiev.ua
Party crash says surprised by speed of the car within the city.
In the capital, at the crossroads of "Lada" had not missed a truck, killing 38-year-old driver of the car. His body, rescuers had to cut a special gear from the pile of scrap metal, according to a story TSN.19:30.
According to the driver of the wagon, he reached the traffic light, which at that moment were not working, and had to stop wishing to travel from the secondary road. When the traffic stopped, he kept going. Suddenly at speed it flew into a car. "I am shocked. I haven't seen you at that speed… All stood up, two rows stood up, jumped out and straight into me. They don't know the signs, don't understand what this truck", – the participant of accident.
According to preliminary information, the accident was provoked by the victimas violated traffic rules on providing benefits to other participants under the characters. Militiamen are assured that will carefully consider all the circumstances of the accident before you decide on the final conclusions. In particular, promise to find out, could the driver of the truck, at least theoretically, to avoid a collision.
The TSN correspondent Olga Neskorozhana
Comments
comments