In Przemysl near the Ukrainian house poles shouted "Death to Ukrainians"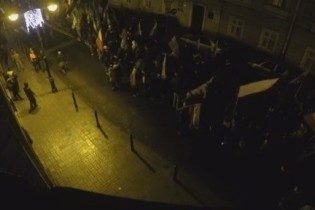 In Przemysl near the Ukrainian house poles shouted "Death to Ukrainians"
The incident occurred during a rally of right-wing organizations.
In Polish Przemysl on 10 December, the participants of the "March of the eagles Przemysl and Lviv", which was held under the patronage of the mayor of the city, shouting "Death to Ukrainians".
Read also: Poroshenko Duda agreed to look for examples in history of friendship between Ukrainians and poles
When the column passed by the Ukrainian people's house, one of the marchers shouted this phrase in Polish, according to the portal Prostir.pl.
It can be heard from the video, which was posted on YouTube.
The event was a right-wing organization: Sapolsky youth and National-radical camp, an informal group of "Patriotic Przemysl" and the establishment of culture Subcarpathian Voivodeship Cultural center in przemyśl. Note that the "Eaglets" were called soldiers from the Polish side, the participants of the Polish-Ukrainian war in Galicia in 1920.
It is also noteworthy that the patronage over the March took, in particular, the mayor of Przemysl Robert Homa.
See also: Smolensk tragedy: it became known whose body was buried in a borrowed grave – the media
The publication also notes that two years ago during a similar event, the participants of the tour, passing by the Ukrainian people's house, chanted "znajdzie się kij na ryj banderowski!" (from Polish "is the cue to Bandera snout").
A year and a half after the then March in Przemysl was made a physical attack on the Ukrainian procession.
Comments
comments